A quick guide to proper cannabis gifting this holiday season
With Green Wednesday – the Black Friday of the cannabis world – come and gone, it's worth turning one's attention to the rest of the holiday season ahead.
Because by the time you're reading this, we will be full swing into the greatest of American pastimes: Suddenly looking at your holiday gift list of family members and friends and work colleagues (even Karl in accounting needs a secret Santa offering) only to remember holiday shopping in normal times is stressful. In 2020, it's likely more so.
But it doesn't have to be.
The $1 billion legal cannabis industry has provided new ways to access safe, legal cannabis in the Commonwealth. Think: "Share Moments Not Joints" kit of various pre-rolls so you can have a proper sesh; a "Highbernate" kit for sleep; or the "All Day, All Night" value four-pack of tinctures (two for daytime two for nighttime).
In short, Canna Provisions has you covered. So here's some other ways to gift cannabis, who to gift it to and why to gift it at all. Happy Holidays friends.
For Your Friend Who Loves Hot Sauce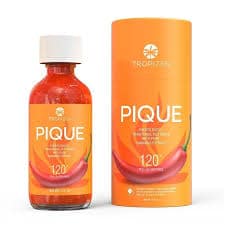 What: Pique
Why: Because it's a dynamite 100mg dosed bottle of Puerto Rican hot sauce made with local peppers and goes well on everything. Even Cheerios.
Bonus Detail: You can buy five of them at a time. One for them, four for you.
For Mom or Dad
What: Bedtime Betty's for Dad. Elderberry's Chews for Mom.
Why: Because dad hasn't slept well in years, and the low dose THC combined with melatonin and organic citrus flavor will be a hit and get him some sleep. Mom's always talking about not getting sick, so get her these with D3 and Vitamin C packed chews and put her on the road to springtime wellness.
For Grandma and Grandpa
What: Nordic Goddess THC salve
Why: It's made using nanotechnology for supreme absorption. Also since it's a topical, it's absorbed through the skin for localized relief without a "high" or psychoactive effect. Which is great if you don't want to get grandma stoned. Not so much if grandpa does.
If Sold Out: Howl's 10:1 CBD:THC tincture. It's whole-plant infusion (see: all the good stuff from the plant used), and is also great for aches, pains, and creaky joints, and the high CBD also means no "high" effect.
For You
What: The Heirloom Collective THC cubes 
Why: Mixed fruit, consistent effect and flavors and texture, and the fact having a little jug of perfectly dosed edibles on your person is a great way to go through the day. Especially when going to the mall. Wait, are malls still a thing?
Want To Kick It Up A Notch? Go with our selection of Live Resin vape cart or five (stock up, it's gonna be a long winter). They're top of the line, and use the best organic, strain-based cannabis derived terpenes added for maximum effect.
All products available at our menu at www.cannaprovisionsgroup.com