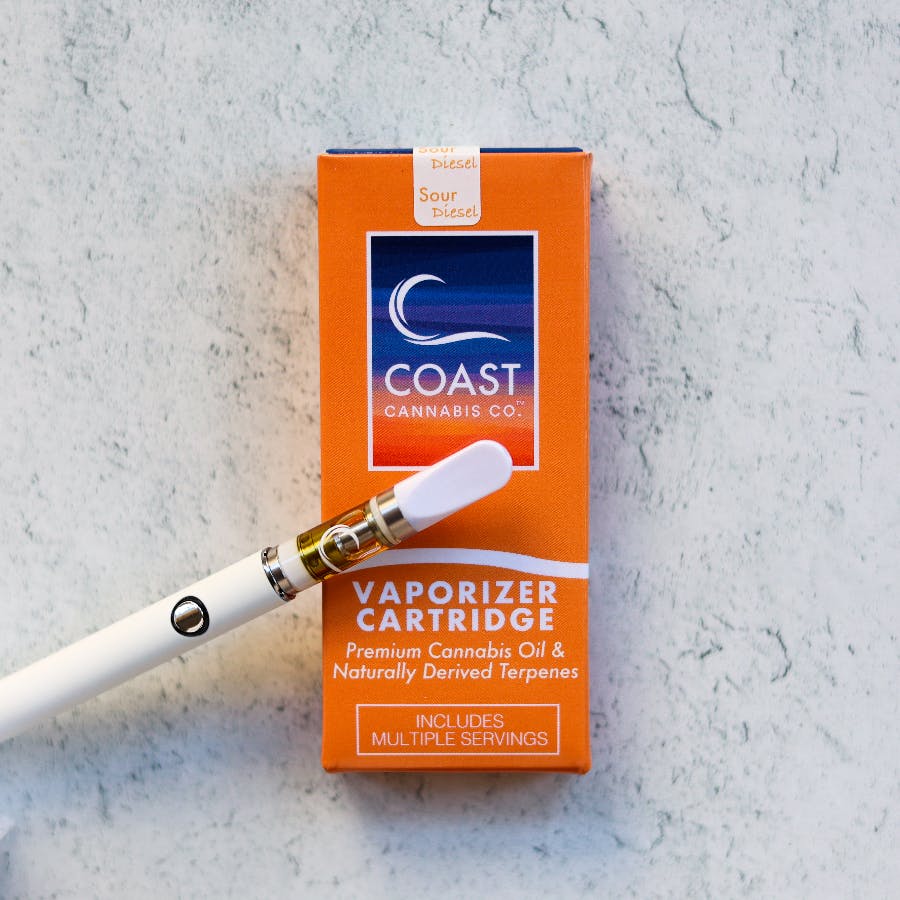 Brand: COAST Cannabis Co.
510 | Sour Diesel | .5g | Coast
Diesel, Fuel, Earthy Sour Diesel is an extremely popular strain that is most recognized by its fuel/gas-like, earthy scent. This fast-acting strain delivers energizing, dreamy cerebral effects that have pushed Sour Diesel to its legendary status. Sativa Vape: These strains tend to produce a more cerebral effect. Sativa strains are commonly used for increasing energy levels, the ability to focus, and aiding in a positive mental state. Sativa strains are often recommended for daytime use with consumers finding the desired effects minus the sedative effects of other strain types. COAST™ strain specific vaporizer cartridges are created using only distilled cannabis oil and terpenes, never additives or harmful fillers. We pair our oil with cutting edge hardware to produce a vaporizer cartridge consumers can feel confident in using. NOTE: This vaporizer cartridge requires a '510 thread' style battery to function and will not work with proprietary 'Pod' style vape pens. We offer 510 Threaded batteries at Canna Provisions- make sure you'll have the correct battery style for the type of cartridge you're buying today!
Effects
Energetic
Happy
Creative
Focused
Inspired
View Product Testing Data
THCA (Δ9-tetrahydrocannabinolic acid)
76.68%
THCA (Δ9-tetrahydrocannabinolic acid)-76.68%
THCA is a cannabis compound with a laundry list of potential mental and physical health benefits. THCA is the non-psychoactive precursor to THC, the most famous cannabinoid of all. While THC is responsible for the psychoactive "high" that so many of us enjoy, THCA has shown great promise as an anti-inflammatory, neuroprotectant and anti-emetic for appetite loss and treatment of nausea. THCA is found in its highest levels in living or freshly harvested cannabis samples. For this reason some users choose to juice fresh cannabis leaves and flowers to get as much THCA as possible.
About the brand :
COAST Cannabis Co.
WE'RE DRIVEN TO INSPIRE AND EMPOWER EVERYONE TO PUT THE BEST INTO THEMSELVES SO THEY CAN GET THE BEST OUT OF THEMSELVES.