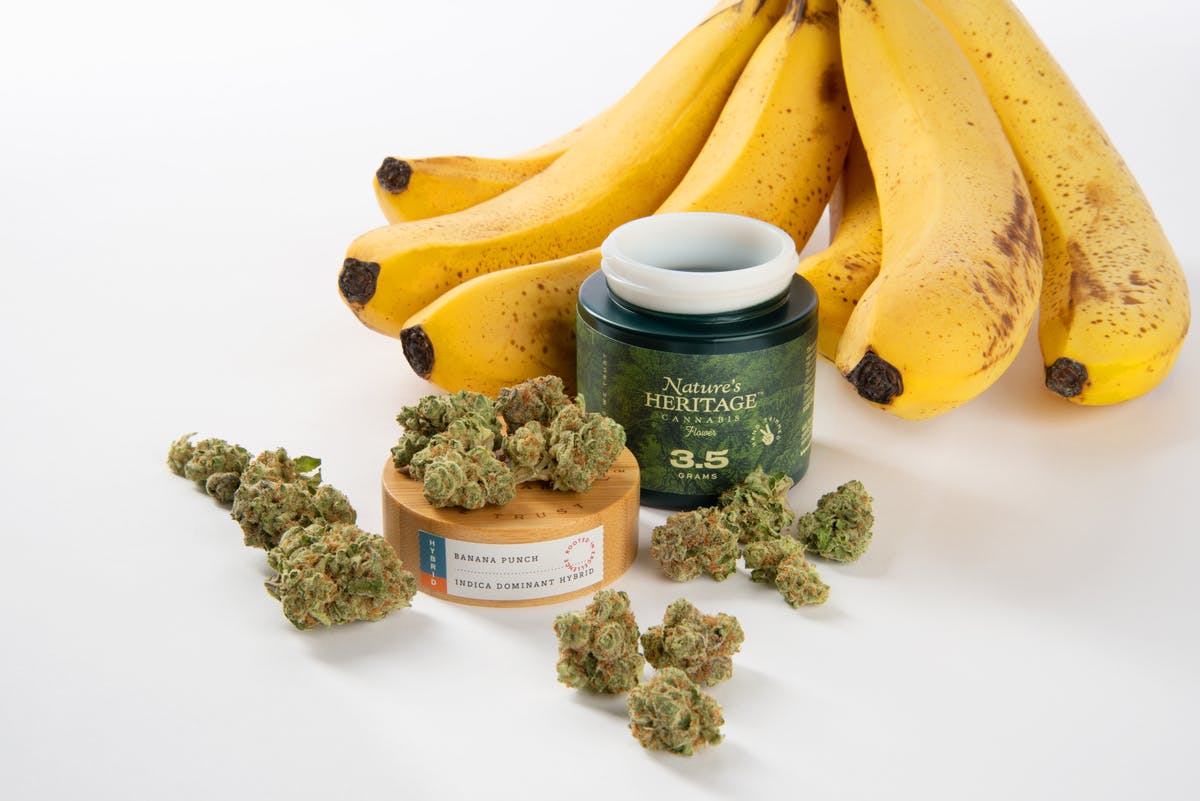 Brand: Nature's Heritage
Banana Punch | Nature's Heritage
Banana Punch is a rare evenly balanced hybrid strain (50% indica/50% sativa) create through crossing the infamous Banana OG X Purple Punch strains. Perfect for any hybrid lover, this bud packs a heavy hit of flavor and full-bodied effects that will leave you happy and lifted for hours on end. Banana Punch packs a sweet tropical pineapple flavor with mouthfuls of ripe banana and spicy berry. The aroma is just as delicious, with a sweet and sour citrus overtone that's accented by a notable hint of rich banana. The Banana Punch high will have you even more head over heels, with a relaxing overtone that will have you kicked back and totally at ease. The effects are definitely creeping in nature, sneaking up on you before suddenly taking hold. Your mind will feel euphoric and focused with a sense of happy creative energy while your body settles down into a state of pure calm and ease. This relaxing feeling quickly turns sedative, which can have you dozing off before you know it.
Look into Nature. Honor your Heritage. Trust the Trees.
Curating an archive of genetics from around the world, we cultivate unique strains of cannabis that capture the finest elements of the plant. We care for our plants like Mother Nature would, never cutting corners.
Effects
Calm
Happy
Relaxed
Energetic
View Product Testing Data
THCA (Δ9-tetrahydrocannabinolic acid)
28.5%
THCA (Δ9-tetrahydrocannabinolic acid)-28.5%
About the brand :
Nature's Heritage
Mother Nature gave us cannabis, the most important plant on earth…and we give you the truest way to enjoy it. Nature's Heritage premium-quality cannabis products feature genetically-pure, validated strains, grown indoors and held to the highest standards. They prioritize the plant's integrity at every turn, fine tuning their methods for the optimization and preservation of cannabinoids, terpenes, flavonoids, and other compounds that contribute to a cannabis plant's full potential.