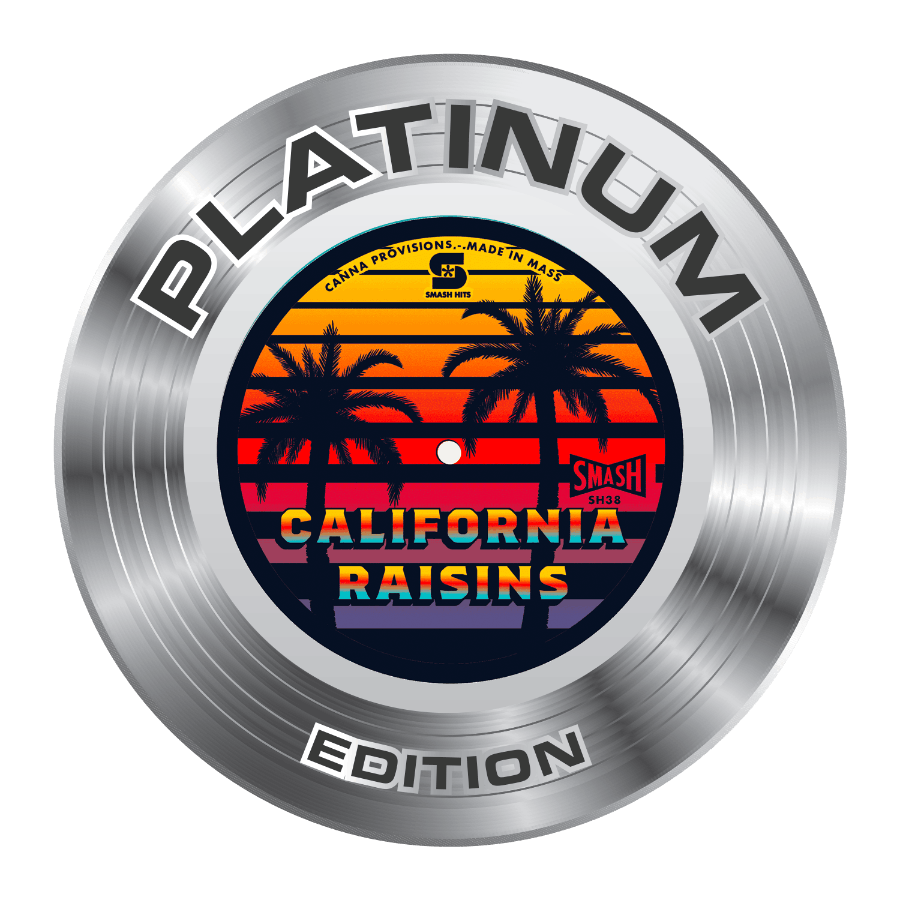 Brand: Smash Hits
California Raisins | 7g Smalls | Smash Hits Platinum
**ASK ABOUT OUR TIERED PRICING!** Whatever images the name may conjure in your head, there's only one thing you need to picture with this strain: FLAVOR. The terpene explosion of California Raisins comes courtesy of the lineage of Biscotti and Grape Gasoline, two fan-favorite indica dominant hybrids, but it's the combination of the cookie batter, petrol, and deep grape flavors and the fantastic cerebral uplift and body calming effects that makes this one a surefire win for anyone looking for their next favorite strain from Smash Hits. FAMILY HISTORY: Biscotti x Grape Gasoline PALATE: Sweet cookies and diesel fumes soaked in a barrel of grape jelly EFFECT: Cerebral yet relaxing, full head-to-toe body buzz and relaxation with supreme good-feeling vibes.
Effects
Calm
Happy
Relaxed
Uplifted
View Product Testing Data
Alpha Bisabolol
0%
Alpha Bisabolol
0%
Alpha Bisabolol is a rather rare terpene found in plants like the chamomile flower. It has a rather sweet and floral scent and has been historically used in cosmetics and tea making. More recently it has been found to have a host of beneficial properties that range from, neuroprotectant to anti-infamatory.
Aromas
Sweet
Floral
Potential Health Benefits
Anti-inflammatory
Brain Function
Beta Caryophyllene
0%
Beta Caryophyllene
0%
Beta-caryophyllene is known for it's wide variety of potential health benefits both physically & mentally. This terpene has a unique ability to bind to the CB2 receptors; CB2 receptors are targeted when treating pain & inflammation with cannabis. Beta-caryophyllene is also approved for use in food by the FDA & is commonly found in black pepper, cinnamon, & basil.
Aromas
Sharp
Spice
Sweet
Wood
Potential Health Benefits
Anti-inflammatory
Gastrointestinal
Cancer Fighting
Anti-depression
Anti-anxiety
Pain Relief
Brain Function
Anti-diabetic
Humulene
0%
Humulene
0%
Commonly found in ginseng, ginger, & hops, Humulene is known to lend its robust characteristics to the different scents of cannabis. This terpene has been used in holistic practices for hundreds of years due to its strong anti-inflammatory properties. Humulene has also been reported to act as an appetite suppressant.
Aromas
Herbal
Spice
Woody
Earthy
Potential Health Benefits
Anti-inflammatory
Cancer Fighting
Appetite Suppressant