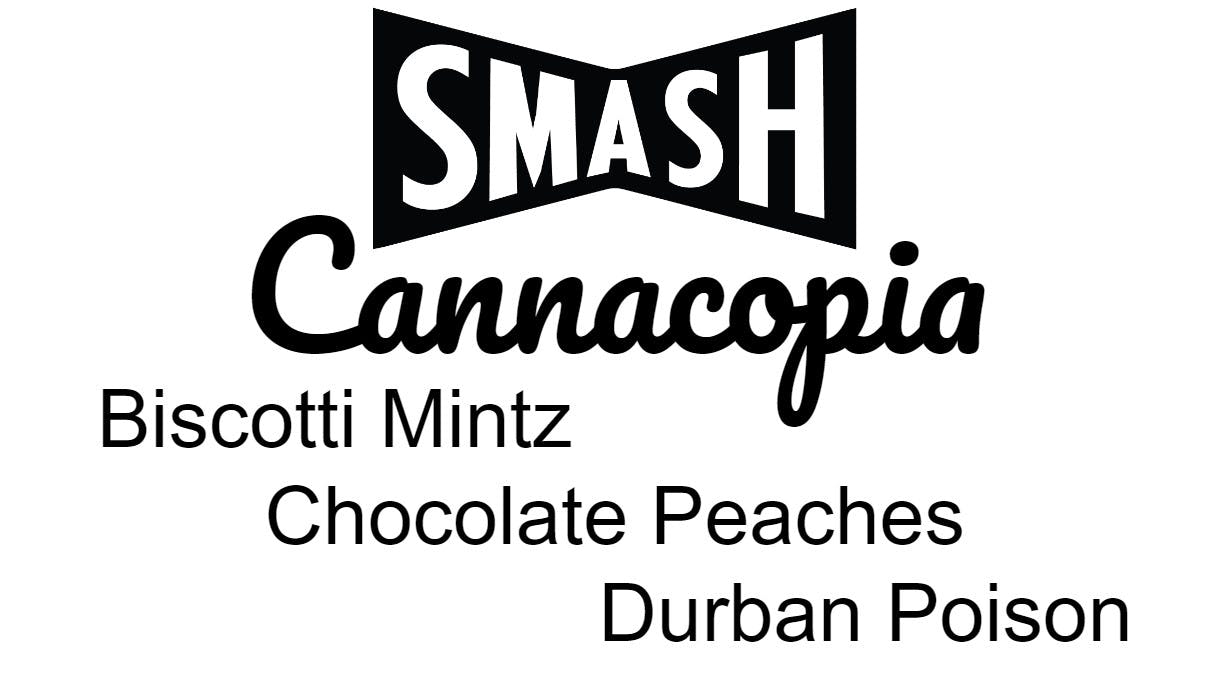 Brand: Smash Hits
Cannacopia Pack | Biscotti Mintz, Chocolate Peaches, Durban Poison | 3g | 3pk | Smash Hits
BISCOTTI MINTZ
Biscotti x Mintz (Indica-leaning hybrid)
Hailing from the true connoisseurs realm of designer cannabis, this luscious flower is rich in aroma and flavor from the distinctive terpene profile that yields chocolate chip cookies, minty whip cream, and warming spice. The buds burst with orange hairs and moss green with some violet accents for effects that inspire creative and focused mindsets and a distinct slow, energizing body high that remains relaxed and collected throughout. Do not miss this strain.
FAMILY HISTORY: Biscotti x Mintz
PALATE: Chocolate chip cookies, creamy mint, and effervescent spice.
EFFECT: Creative and focused mindset with a slow, energizing body high that maintains a deep relaxing finish.
CHOCOLATE PEACHES
True Chocolate x Peaches n Cream (Indica-leaning hybrid)
Take True Chocolate, known for tasting like melted milk chocolate and bringing big indica couch lock and brain melting highs, with Peaches and Cream, a cross of a Chemdog variety, Super Silver Haze, Maui, and teardrops of the gods, and you have one standout cross from the Smash Hits library. Choco-candy flavor and aroma, expect big body pain relief and some heavy effect (ie: not for the light consumer), and get ready for giggles and overall vibe correction here. Top marks for this one.
FAMILY HISTORY: True Chocolate x Peaches n Cream
PALATE: Melted milk chocolate and candied peaches
EFFECT: Couchlock heavy and brain melting highs that are offset by deep body relief and wild onset giggles. Note: this one is for heavy consumers.
Durban Poison (Sativa)
The powerhouse of powerhouses, Durban Poison's lineage stretches to South Africa, and is one of the few pure sativas out there. This cut is earthy and sweet, with pine and forest fueling the activities that you'll be seeking out to do after consuming one of these gorgeous buds, deep hued with orange, yellow, lime green, and dark purple tones. When this is available, you purchase it. Especially when it's from the Smash Hits house and Chemdog and the team creating the best version possible.
FAMILY HISTORY: Durban Poison
PALATE: Dark soil and forest, dewy pine, and touches of sweet.
EFFECT: Super energetic and motivation for activities – creative as well as physical – definitely one for hiking, fitness, and other active endeavors.
Effects
Calm
Happy
Relaxed
Energetic