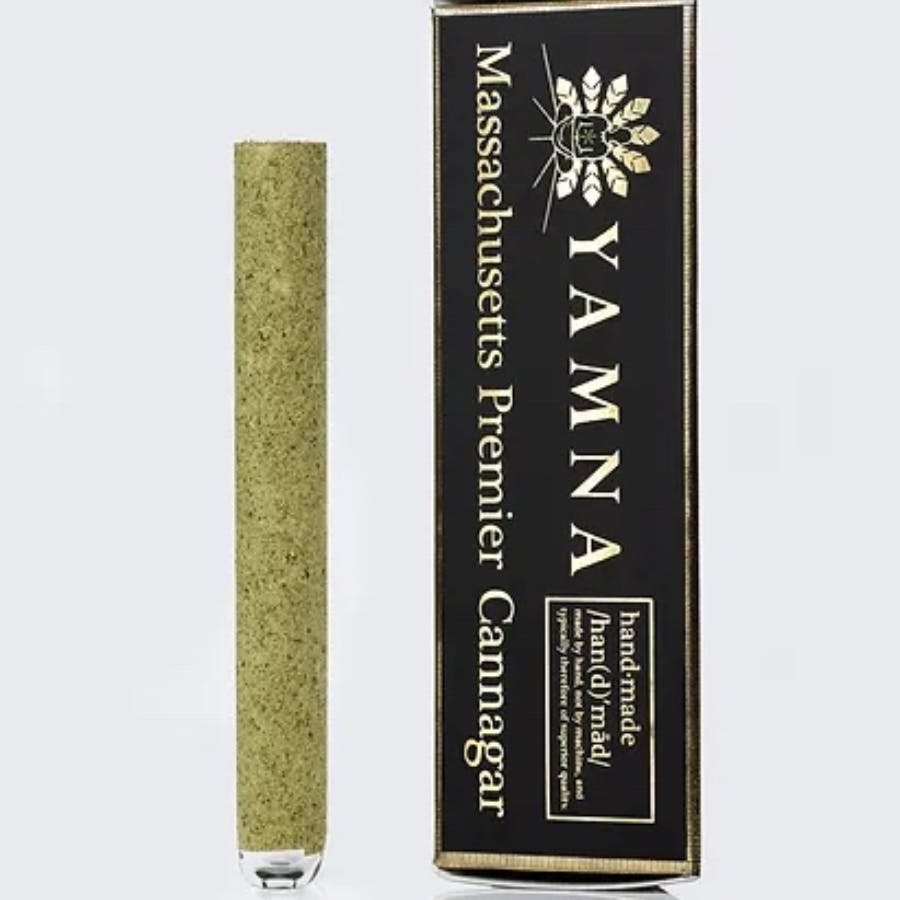 Brand: Yamna
Cannagar | Live Resin Infused Hippie Slayer by Smash Hits | 2.5g | Yamna
Ah, Hippie Slayer. As an indica-crossed strain one would expect classic heavy GMO-ish effects from its Afghanistan, Colombia, and Thailand roots. But the fact that its parents are Dirty Hippy (Afgooey x Blockhead) and R.K.S (Road Kill Skunk) should be a good signal of what you have here.
Which is: A powerhouse deep-space strain with mega-terps yielding dark green olive buds and purple shapes and the kind of white crystals that make a refined consumer sing out loud while holding up couches and cleaning the house. Expect rich effects and energetic waves through this stoner slayer.
FAMILY HISTORY: Dirty Hippy x R.K.S
PALATE: "This is one of my favorite tasting strains out of this first batch because it reminds me of that old-school Afgooey flavor of earth, pine, and spice." – Chemdog
EFFECT: Deep rich body high powered by waves of get-things-done gassy energy.
Our Cannagars are handmade in-house using 2 grams premium flower and infused with 0.5g Live Resin. Each Cannagar uses 100% USA grown hemp with a reusable glass filter. It is best to light the Cannagar like you would a cigar. Evenly burn the tip, start to puff and enjoy!
Effects
Relaxed
Sleepy
Happy
View Product Testing Data
THCA (Δ9-tetrahydrocannabinolic acid)
37.72%
THCA (Δ9-tetrahydrocannabinolic acid)-37.72%
About the brand :
Yamna
Historical records indicate that cannabis first appeared around 10,000-11,000 years ago in parts of Europe and Asia. 5,000 years later, a sharp rise in marijuana use appeared. The Yamna or Yamnaya people were a tribe originating in Central Asia. They are one of three tribes credited with the foundation of European civilization. During the Bronze Age, they dispersed eastward to Asia. This was around the same time cannabis was first distributed. A transcontinental connection formed between Europe and Asia where Eurasians transported goods across the Mongolian Steppe, a trade route that would eventually become the Silk Road. Several cultures show evidence of cannabis use during the Bronze Age, the earliest being the Yamna. Some scholars credit the Yamna with the domestication and smoking of marijuana; which paved the way for individual use. The independent use of Asian and European cannabis allowed the plant to become a cash crop and may have been the driving force behind the transcontinental connection. ​The Yamna brand embodies this ancient culture of education and sale of cannabis.