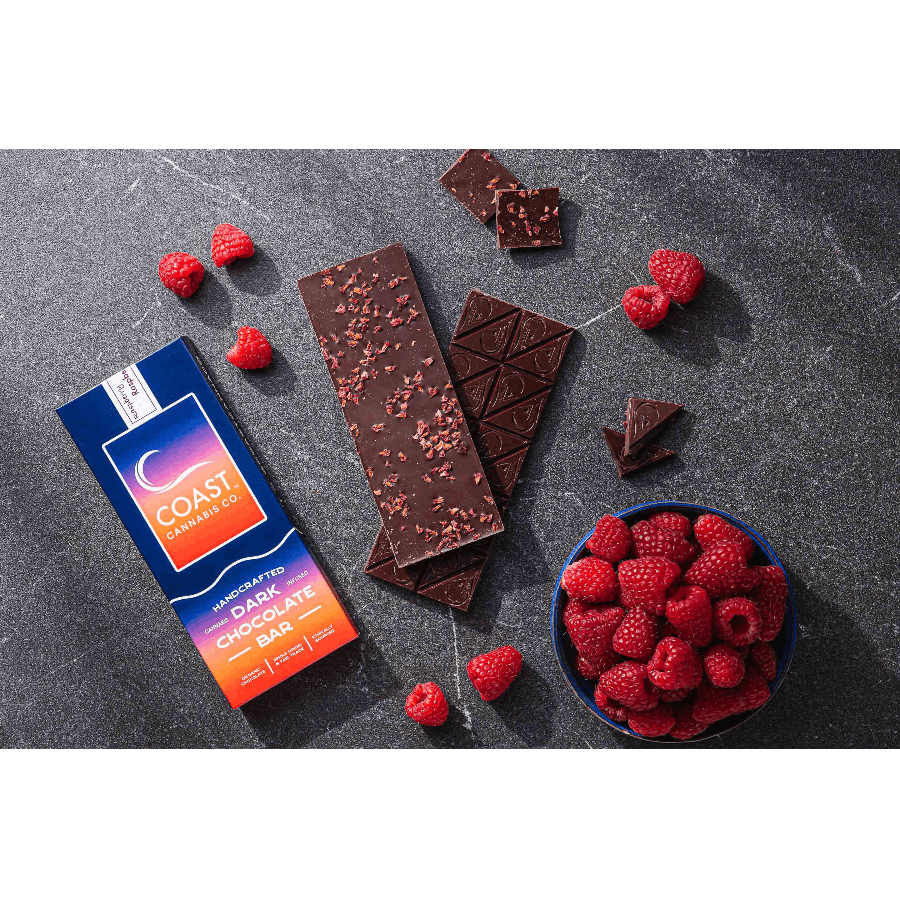 Brand: COAST Cannabis Co.
Chocolate | Dark Chocolate and Raspberry Bar | 100mg | 20pk | Coast
"Within an hour I was feeling a nice mellow high 😌 very relaxed I wasn't anxious like I normally get. 😅I kept looking over at the bar because it was so tasty I wanted more but I didn't wanna over do it. Buuuuut I did grab another piece. Watched pineapple express and laughed my butt off for an hour!. I definitely recommend that dark chocolate and raspberry bar. Give it a shot - you won't be disappointed." - Canna Fam approved!
Bits of raspberry and organic dark chocolate combines for a bright, slightly tart flavor that's sure to make you smile. Made with Organic Dark Chocolate, Organic Dehydrated Raspberry, Organic Cocoa Butter, & Distilled Cannabis Oil
DARK CHOCOLATE BARS
Our Dark Chocolate is a unique blend of organic, fair-trade Grand Cru chocolate made of cocoa beans originating from Peru and the
Dominican Republic.
These 60% Cacao bars embodying the intensity of cacao with the acidity and aromas of ripe fruit, that dark chocolate lovers are bound to enjoy.
Coast™ bars are made with only organic, fair trade, ethically sourced chocolate direct from South America. Our handcrafted bars deliver a consistent experience while preserving the chocolates' high-quality flavor and texture. You can really taste and feel the difference when you enjoy our chocolate.
Effects
Calm
Happy
Relaxed
Energetic
View Product Testing Data
THC-D9 (Delta 9–tetrahydrocannabinol)
100
THC-D9 (Delta 9–tetrahydrocannabinol)-100
About the brand :
COAST Cannabis Co.
WE'RE DRIVEN TO INSPIRE AND EMPOWER EVERYONE TO PUT THE BEST INTO THEMSELVES SO THEY CAN GET THE BEST OUT OF THEMSELVES.