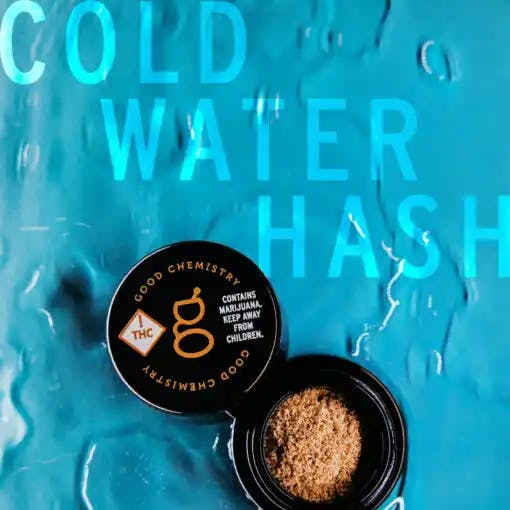 Brand: Good Chemistry Nurseries
Cold Water Hash | Dolato | 1g | Good Chemistry
Dolato is an indica marijuana strain made by crossing Do-Si-Dos with Gelato #41. Dolato has a beautiful range of colors in its colas—from light to dark green and red-wine purple to bright orange, all dusted with diamond-like trichomes. Dolato's terpene profile features a fruity, earthy scent followed by a sweet lavender taste. Dolato may leave people feeling stress-free and sedated, making it perfect for a slowed-down night in, perhaps paired with a bath and a book.
Effects
Relaxed
Sleepy
Happy
View Product Testing Data
THC-D9 (Delta 9–tetrahydrocannabinol)
48.12%
THC-D9 (Delta 9–tetrahydrocannabinol)-48.12%
THCA (Δ9-tetrahydrocannabinolic acid)
48.12%
THCA (Δ9-tetrahydrocannabinolic acid)-48.12%
About the brand :
Good Chemistry Nurseries
Good Chemistry Nurseries founder/CEO Matt Huron traces his horticultural roots to his grandparents who were farmers before settling in Worcester, Massachusetts 25 years ago. "I spent a lot of time with my grandparents when I was growing up," he explains, "and they really instilled in me a passion for agriculture, and the feeling that comes with building and growing something special." Good Chemistry currently employs more than 150 passionate team members, operating dispensaries in Denver and Aurora. The company has developed and implemented best practices in the medical and retail marijuana industry in Colorado and Massachusetts. Since its foundation, Good Chemistry has expanded its Colorado cultivation operations to Nevada and Massachusetts, with five cultivation facilities that are devoted solely to the production of more than 60 strains of marijuana. In addition, the company has optimized the production of extracts and concentrates through solvent-less processing.