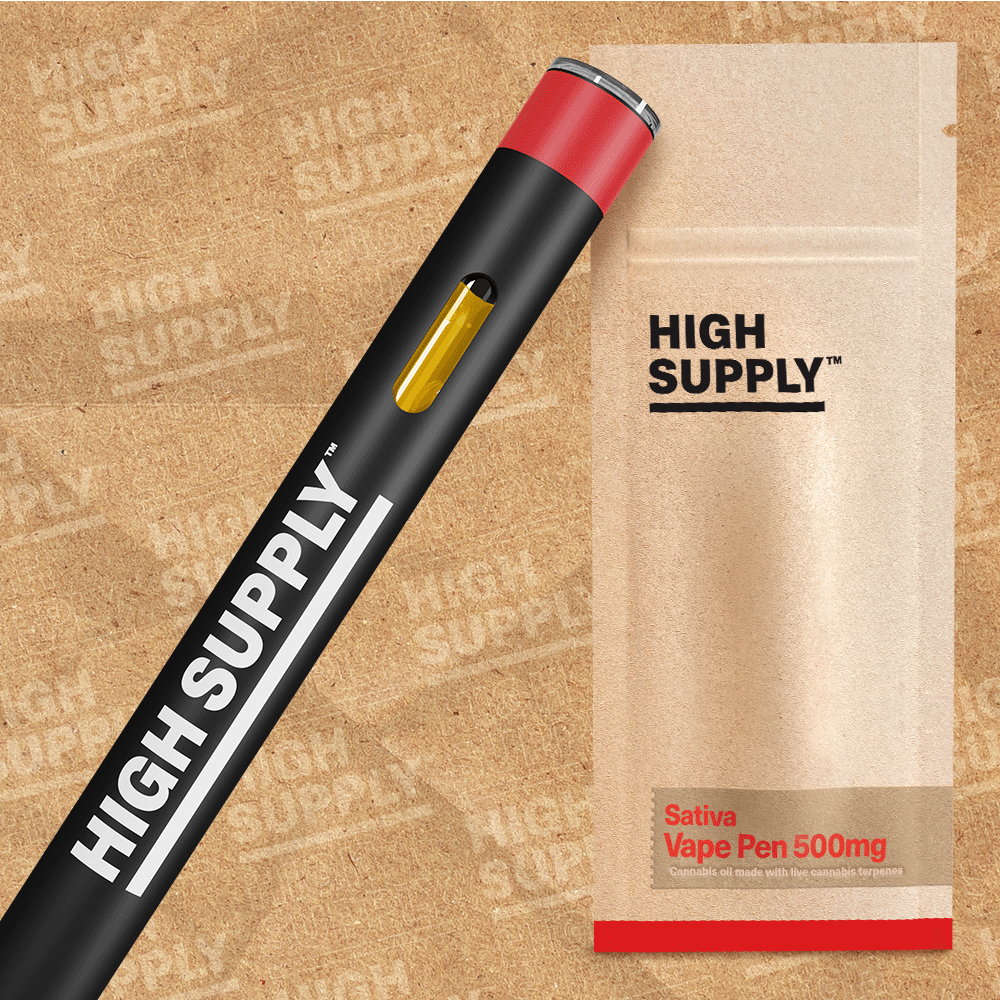 Brand: High Supply
Disposable | Banana Mai Tai | .5g | High Supply
Sativa
THC:78.13%
CBD:0.31%
Banana Cream Cake x Spiked Mai Tai
TASTE: Super sweet and doughy creamy banana flavor with a lovely sugary exhale
FEELING: High hits you almost as soon as you exhale, working its way immediately into your brain with lightning-fast energy and creativity. This quickly turns heady, leaving you hazy, unfocused and pretty happy about it. You'll find yourself fading in and out of giggly episodes, laughing at anything and everything around you. This is accompanied by a lightly stoney body high that keeps your physical form totally relaxed.
DESCRIPTION: Indica dominant hybrid strain created through crossing the potent Banana Kush X Cheese Cake strains. Named for its super delicious flavor, Banana Cream Cake packs everything any indica lover dreams of and more into each tasty little toke.
Spiked Mai Tai is an evenly balanced hybrid strain (50% indica/50% sativa) created through crossing the delicious Mai Tai X Jungle Cake strains. If you're after a super well-balanced high and a delicious flavor with your medicine, Spiked Mai Tai is totally made for you. This bud packs potent cerebral and physical effects that have you feeling stimulated and relaxed at the same time. It starts in the head a few minutes after your final toke, filling your brain with a tingly happy sense and an uplifted euphoria. You'll feel focused and creative with a sociable incline that lends itself well to any conversation at hand. This giddy state is accompanied by a soothing body high that spreads in warming tingly waves, keeping you feeling physically calm and relaxed from head to toe. In combination with its super high 24-25% average THC level, these effects make Spiked Mai Tai a great choice for treating depression, chronic stress, ADD or ADHD, chronic fatigue and headaches or migraines. This bud has a sweet and fruity sour tropical flavor with hints of flowery pine. The aroma is of sour tropical fruits with a hint of earthy diesel and fresh flowery pine, too. Spiked Mai Tai buds have airy grape-shaped bright neon green nugs with deep amber undertones, thin orange hairs and a coating of golden amber crystal trichomes.
Terpenes: Myrcene, Pinene, Ocimene
Flavor Notes: Herbal, Pine, Mint
Reported Effects: Giggly, Talkative, Happy
Effects
Energetic
Happy
Creative
Focused
Inspired
View Product Testing Data
THC-D9 (Delta 9–tetrahydrocannabinol)
78.13%
THC-D9 (Delta 9–tetrahydrocannabinol)-78.13%
THCA (Δ9-tetrahydrocannabinolic acid)
78.13%
THCA (Δ9-tetrahydrocannabinolic acid)-78.13%
About the brand :
High Supply
Quality weed for those who always look for more out of life.