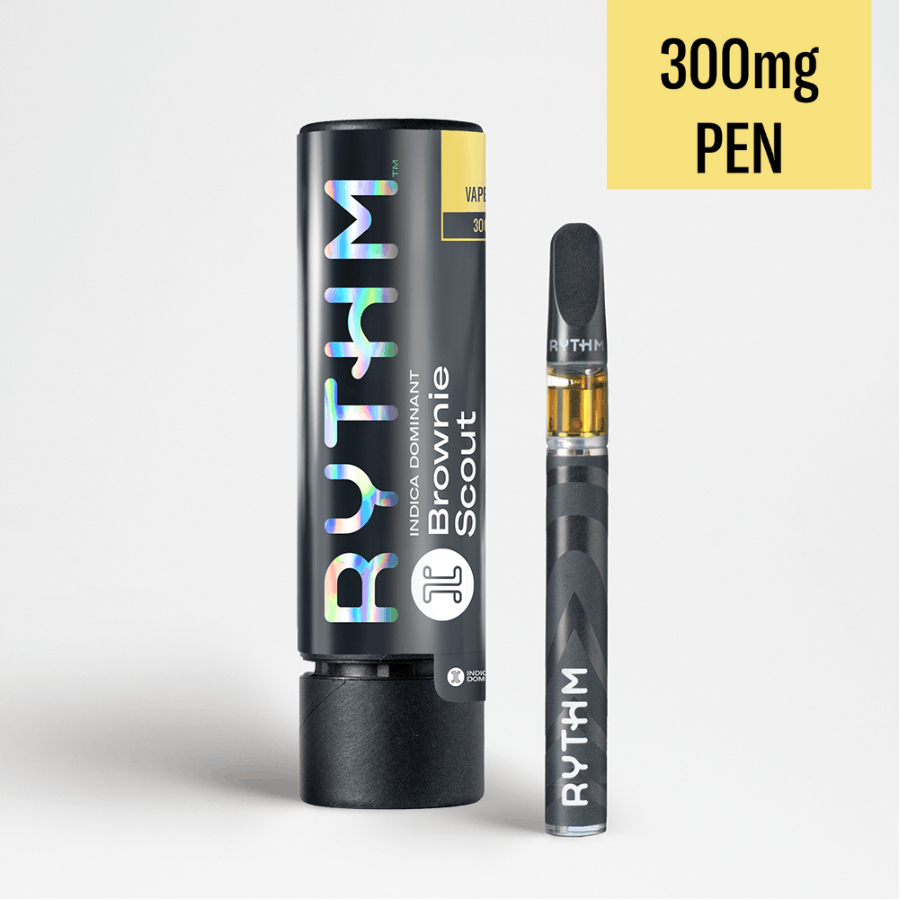 Brand: Rythm
Disposable | Brownie Scout | .3g | Rythm
[orig: A Green Thumb original]
Brownie Scout rushes the crowd with a blazingly intense initial surge, then dives into an exultant indica trance. This award-winning indica is one of the hardest-hitting strains around with its high-THC levels and pungent bite of spice, chocolate, and earth. This Green Thumb Industries exclusive will leave you breathless and transported.
Get strapped in for a ride that ends on the couch. Brownie Scout is a potent, powerful gal that gives a bold 'in-your-face' high. She has rich purple leaves, long thin orange hairs, and a thick frosty coating of tiny bright white crystal trichomes. She's intense at the beginning and may finish with sedating, sleepy effects. Our RYTHM Grow team says that Brownie Scout is one of the densest strains that we grow; she packs a huge punch!
TASTE + AROMA
SPICE
SWEET
CHOCOLATE
DIESEL
EARTHY
TOP TERPENES
LIMONENE
MYRCENE
CARYOPHYLLENE
Check out Rythm's playlist for this strain!
https://open.spotify.com/playlist/5Yt3BblpPoY8Nn3wyjaZMG?si=decdf9bb1dec4cc3
AWARDS
Chicago Reader's "Best of Chicago 2019": Best Cannabis Strain
Cannabis without compromises.
Just as nature intended.
RYTHM premium vape pens, vape cartridges, and PAX pods use only high quality, full spectrum CO2 oil and 100% strain specific terpenes, for your true to plant experience.
Our 100% cannabis vape products are made with the highest quality and purity standards, never contain additives, and are verified by state-approved testing laboratories.
Convenient ready-to-use RYTHM CCELL vape pens offer a flavorful, full spectrum experience on the go
Don't forget to wrap your vape pen with your Strain Sticker – found on outer packaging!
Available in 300mg
Effects
Happy
Relaxed
Sleepy
View Product Testing Data
THC-D9 (Delta 9–tetrahydrocannabinol)
79.02%
THC-D9 (Delta 9–tetrahydrocannabinol)-79.02%
THCA (Δ9-tetrahydrocannabinolic acid)
79.02%
THCA (Δ9-tetrahydrocannabinolic acid)-79.02%
"TAC" - Total Active Cannabinoids
83%
"TAC" - Total Active Cannabinoids-83%
About the brand :
Rythm
RYTHM is a national cannabis brand with a singular promise: to provide consistent, authentic experiences that empower consumers to live their best lives. Rythm's streamlined product suite and intuitive effect scale simplify the cluttered and confusing universe of cannabis products, while their tireless commitment to innovation in technology and horticulture ensures quality and reliability.