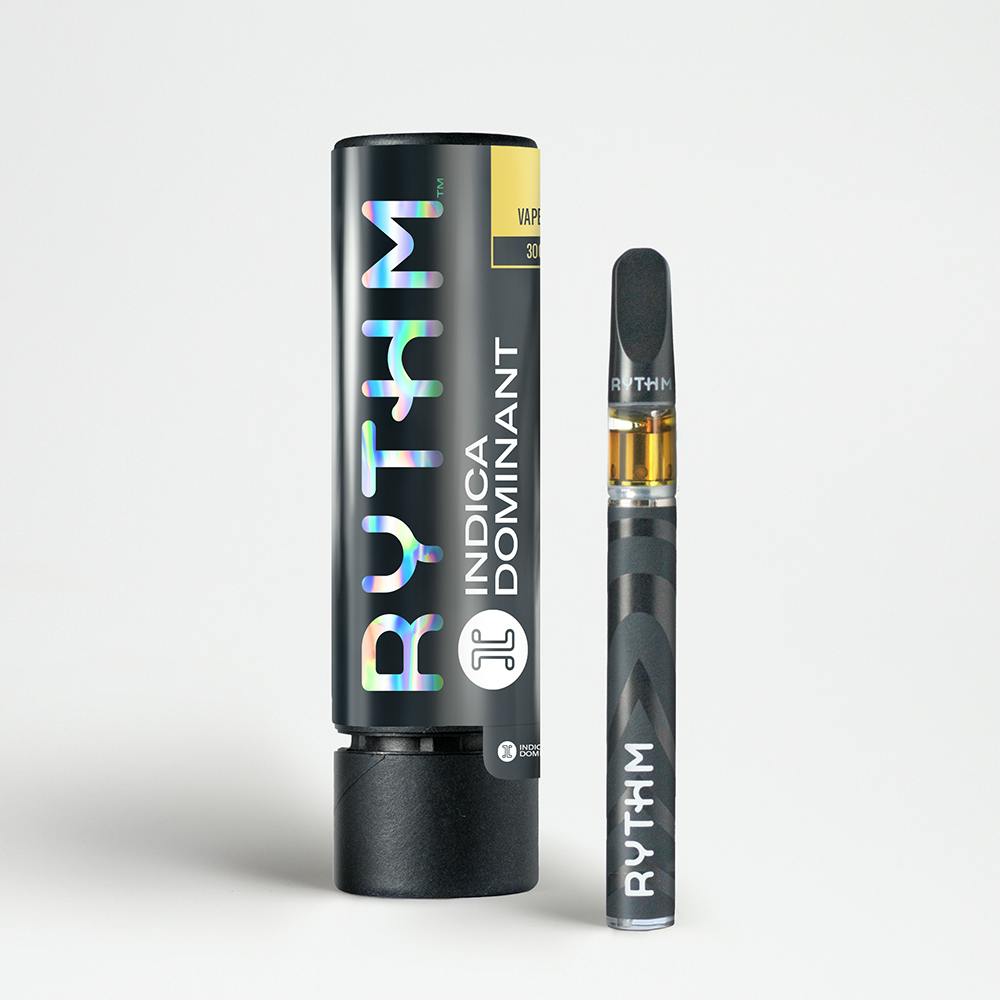 Brand: Rythm
Disposable | Head Cracker | .3g | Rythm
Headcracker, also known as "Head Cracker," is an indica dominant hybrid strain (70% indica/30% sativa) created through crossing the potent Headband X Green Crack strains. When it comes to the effects of this bud, the name says everything you need to know. Headcracker brings on a head-spinning high that will knock you flat out in no time at all. You'll feel instantly tingly with a warming effect that wraps around your brain. You'll feel a light touch of lifted energy and happiness that boosts your spirits without getting you feeling too energized. A sharp pang of hunger comes next, leaving you ravenously hungry with a case of the munchies. With these effects and its high 20% + average THC level, Headcracker is often chosen to treat a variety of conditions including chronic fatigue, headaches or migraines, chronic stress or anxiety and appetite loss or nausea. This bud has a sweet and fruity nutty plum cake flavor with a lightly sour citrusy lemon exhale. The aroma is of sweet nuttiness with a spicy herbal plum effect that intensifies the more that you toke. Headcracker buds have fat and fluffy hand-shaped minty green nugs with deep undertones, thin orange hairs and a coating of tiny bright white crystal trichomes.
Cannabis without compromises.
Just as nature intended.
RYTHM premium vape pens, vape cartridges, and PAX pods use only high quality, full spectrum CO2 oil and 100% strain specific terpenes, for your true to plant experience.
Our 100% cannabis vape products are made with the highest quality and purity standards, never contain additives, and are verified by state-approved testing laboratories.
Convenient ready-to-use RYTHM CCELL vape pens offer a flavorful, full spectrum experience on the go
Don't forget to wrap your vape pen with your Strain Sticker – found on outer packaging!
Available in 300mg
Effects
Relaxed
Sleepy
Happy
View Product Testing Data
THC-D9 (Delta 9–tetrahydrocannabinol)
80.26%
THC-D9 (Delta 9–tetrahydrocannabinol)-80.26%
THCA (Δ9-tetrahydrocannabinolic acid)
80.27%
THCA (Δ9-tetrahydrocannabinolic acid)-80.27%
"TAC" - Total Active Cannabinoids
86%
"TAC" - Total Active Cannabinoids-86%
About the brand :
Rythm
RYTHM is a national cannabis brand with a singular promise: to provide consistent, authentic experiences that empower consumers to live their best lives. Rythm's streamlined product suite and intuitive effect scale simplify the cluttered and confusing universe of cannabis products, while their tireless commitment to innovation in technology and horticulture ensures quality and reliability.