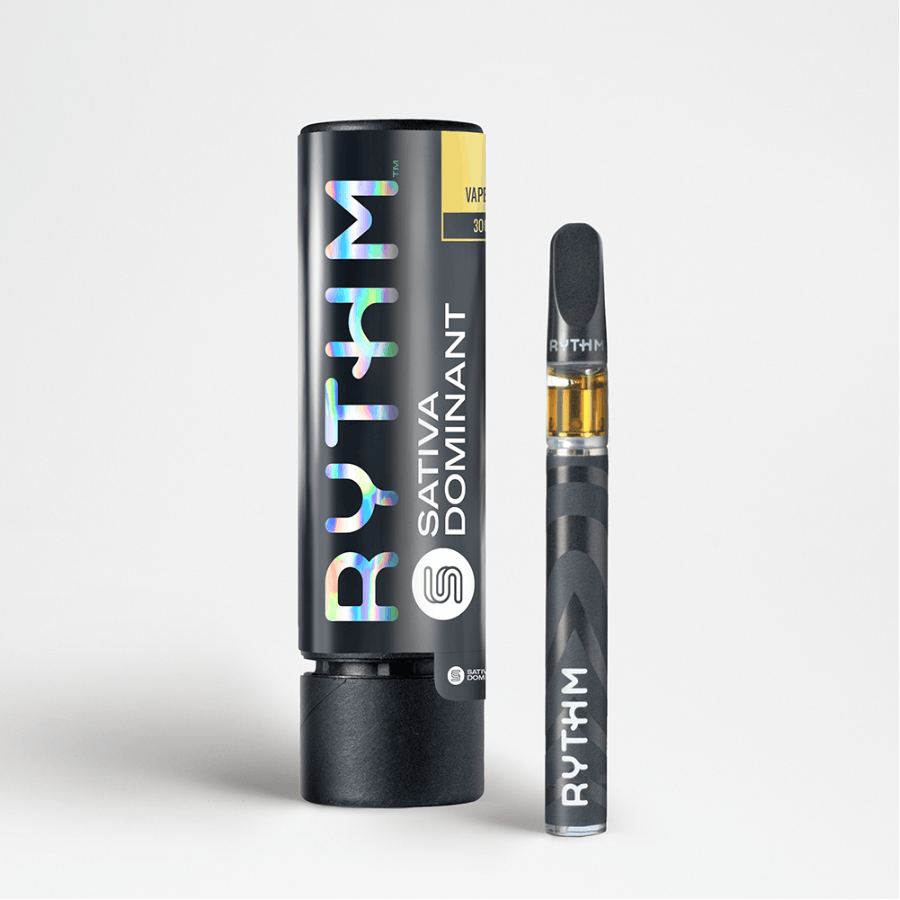 Brand: Rythm
Disposable | Lemon Drip | .3g | Rythm
One of the more unusual members of Exotic Genetix's 2020 Grease Monkey lineup, Lemon Drip lineage, switches up the formula significantly with Lemon Skunk and Sour Diesel genetics. Bred from the seed company's GG#4 x Cookies and Cream hybrid and Lemon Tree, this pungent sweet and sour marijuana strain has impeccable credentials. In fact, Lemon Tree, aka Lemon Tree Kush, is a multiple cup-winning strain with medically renowned pain-relieving powers, so you know its descendent is primed for use.
Armed with extremely potent, slightly sativa leaning psychoactive effects and a scintillating sour citrus flavour, this high-producing phenotype is an excellent choice if you want all the benefits of a top-shelf sativa-dominant hybrid but with half the hassle and wait. For a strain that's bursting with potential, try making Lemon Drip your first response next time life gives you lemons.
Lemon Drip Terpene Profile
Lemon Drip flavour combines the same chemical/cookies qualities of its Grease Monkey relative but blended with pungent skunk and sweet citrus. As one would expect, it has a strong citrusy lemon drop scent and heavy accents of kush spice, but also the haunting herbaceous funk of a skunk plant. Notes of grapefruit, vanilla, and gasoline are also apparent, but it's this unusual twist on the traditional that gives this fruity strain its greatest appeal.
One of Lemon Drip dominant terpenes is limonene, which accounts for its prominent citrus flavour. Myrcene terpenes provide the strain's strong scented skunk overtones, while caryophyllene is chiefly responsible for its kush and cookies qualities. Along with alpha-pinene, humulene, and several other fragrant terps, its terpene profile benefits from a rich heritage that spans the world of marijuana.
Lemon Drip Strain Effects
This slightly sativa-leaning lemon drop strain has an intoxicating, uplifting psychoactive effect that begins by transporting the user to the lofty heights of cerebral stimulation before slowly bringing them back down to earth. Lemon Drip effects are euphoric and energy-boosting at first, whipping the brain into a frenzy of frantic and fantastical thought while simultaneously inspiring happiness and a giggly, carefree mindset. After an hour or two, its calming indica-dominant characteristics will come into effect, slowing things down to a steadier pace and leaving the user with a feeling of physical heaviness and a tingling sensation in their extremities.
Users who are prone to anxiety, dry eyes, or other negative traits that are common with stronger sativa strains should stay away from this provocative phenotype. Thankfully, its high levels of alpha-pinene help to mitigate many of these side effects, making it suitable for daytime use if you're able to withstand its sedative side.
Like its award-winning Lemon Tree parent, cannabis grown from Lemon Drip seeds can be a marvellous alternative to usual methods of pain management. High levels of THC and caryophyllene can be the perfect chemical combination for relieving pain and reducing swelling. Both have proven anti-inflammatory and analgesic effects and work together and augment one another via the entourage effect. For recent sports injuries, joint pain, and muscular discomfort, it's a great option, especially if you prefer to avoid stronger opioid drugs.
Lemon Drip can also potentially be used to help with depression. Despite its sour taste, it can offer sweet and immediate relief when things seem at their most hopeless, promoting a more positive and productive mindset. Limonene and alpha-pinene both have stimulating qualities and are known to boost serotonin – a hormone that plays a significant role in regulating our mood.
Cannabis without compromises.
Just as nature intended.
RYTHM premium vape pens, vape cartridges, and PAX pods use only high quality, full spectrum CO2 oil and 100% strain specific terpenes, for your true to plant experience.
Our 100% cannabis vape products are made with the highest quality and purity standards, never contain additives, and are verified by state-approved testing laboratories.
Convenient ready-to-use RYTHM CCELL vape pens offer a flavorful, full spectrum experience on the go
Don't forget to wrap your vape pen with your Strain Sticker – found on outer packaging!
Available in 300mg
Effects
Creative
Energetic
Focused
Happy
Inspired
View Product Testing Data
THC-D9 (Delta 9–tetrahydrocannabinol)
78.26%
THC-D9 (Delta 9–tetrahydrocannabinol)-78.26%
THCA (Δ9-tetrahydrocannabinolic acid)
78.26%
THCA (Δ9-tetrahydrocannabinolic acid)-78.26%
About the brand :
Rythm
RYTHM is a national cannabis brand with a singular promise: to provide consistent, authentic experiences that empower consumers to live their best lives. Rythm's streamlined product suite and intuitive effect scale simplify the cluttered and confusing universe of cannabis products, while their tireless commitment to innovation in technology and horticulture ensures quality and reliability.