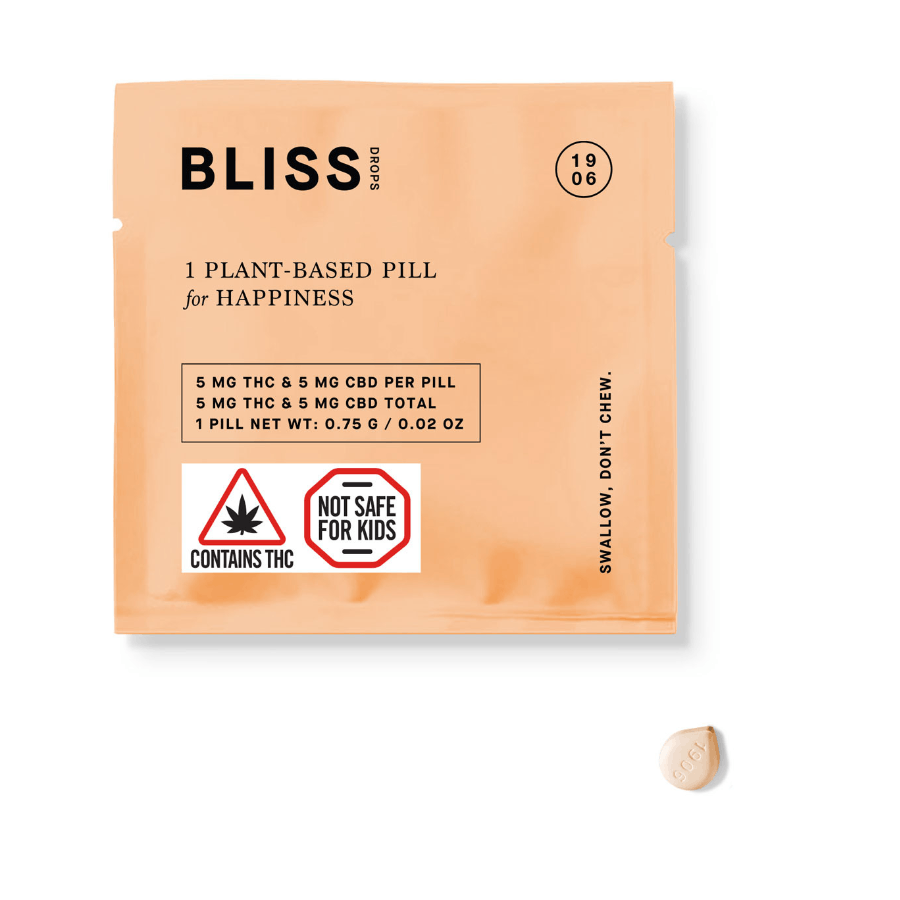 Brand: 1906
Drop Singles | Bliss 1:1 | 5mg THC/5 mg CBD | 1pk | 1906
Bliss is a euphoric blend of three plant medicines and cannabis that promote a bubbly sense of happiness and well-being. We've carefully designed an optimal blend of plants to create a calm, positive mood, plus a nice energy lift that makes you want to share your amazing mood with the whole world. For thousands of years, cultures all over the globe have used natural mood enhancers, and for the last two decades, modern science has endeavored to improve mood through problematic pharmaceuticals. But Bliss is all natural with no side effects and no prescription necessary. You can take it when you need it and leave it when you don't. Bliss is formulated from one of the greatest happy drugs known to man: kanna, also known as Sceletium tortuosum. Kanna works great alone, but it also enhances the effects of cannabis, and we've added three other herbs for energy and positive outlook. So who needs Bliss? Bliss is perfect for anytime you want to redecorate your head. It's a great antidote for social anxiety, lack of motivation, depressive funks, rainy days, or tax season dread. It's a fun addition to a sunny day where the sky is the limit and is a great way to spark a spontaneous party, even if that party is in your own closet. Within about 20 minutes of taking Bliss, you will feel a mood lift and a pleasant swell of chatty, positive energy. The rest is up to you.
SUPPLEMENT FACTS SERVING SIZE 1 DROP (.75G), SERVINGS 1, AMOUNT PER SERVING: THEOBROMINE 100MG\*, SCELETIUM TORTUOSUM EXTRACT 20MG\*, CANNABIS EXTRACT 10MG\*, MAGNOLIA BARK EXTRACT (MAGNOLIA OFFICINALIS) 7.5MG\*.
-------
INGREDIENTS: Calcium Carbonate, Silicon Dioxide, Microcrystalline Cellulose, Crospovidone, Magnesium Stearate, Hydroxypropyl, Methycellulose, Polyvinyl Alcohol, Polyethylene Glycol, Talc, Titanium Dioxide, FD&C Blue 2, FD&C Yellow 6
Effects
Calm
Happy
Relaxed
Energetic
View Product Testing Data
THC-D9 (Delta 9–tetrahydrocannabinol)
5
THC-D9 (Delta 9–tetrahydrocannabinol)-5
About the brand :
1906
1906 is named for the last time cannabis was nationally accepted as a beneficial, versatile medicine. We believe it's high time to bring cannabis back to the mainstream for the greater good (and the greater fun). Our mission is to revolutionize self-care with more effective, more accessible options for everyday needs. We have created six thoughtfully-engineered formulas to help you do all the life stuff better—whether that's improving energy levels, relaxation, focus, mood, sex, or sleep. Each formulation is an optimal combination of medicinal plants and single-strain pesticide free cannabis. Every 1906 experience—whether it's chocolate or a swallowable pill--contains a patented technology that makes it the fastest-acting edible in the world, with an onset of 20 minutes or less.