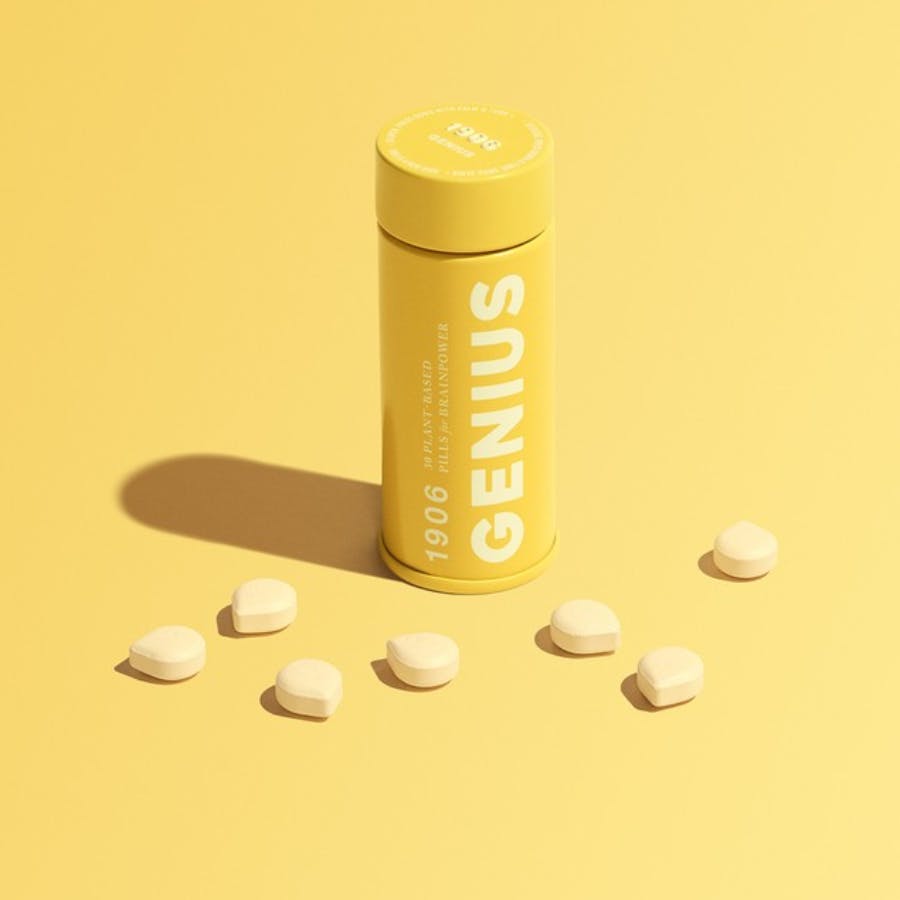 Brand: 1906
Drops | Genius 1:1 | 75mg THC/75mg CBD | 30pk | 1906
1906 Genius Drops are the first cannabis edible developed specifically to enhance focus. The product of several years of research and development, this formula uses a special blend of cannabis sativa known to aid in mental sharpness, plus six additional plant medicines for cognitive focus, memory enhancement, and calm concentration.
Genius uses Rhodiola to optimize brain function, the Ayurvedic herb Bacopa to help improve memory and reduce stress, Galangal for sustained alertness, and a highly considered combination of L-theanine, Theobromine, and caffeine for sustained energy and lucid thinking. Unlike the common prescription drugs for attentional focus, Genius will not make you agitated, "speedy," or jittery, and it has no unpleasant hangover effects.
Founder Peter Barsoom describes the genesis of Genius: "As someone diagnosed with ADD at 21 and prescribed Ritalin and Adderall for over 20 years, I had a keen personal interest in finding plant-based alternatives to medications. The goal with 1906 Genius was to create a nonprescription plant-based nootropic for cognitive focus, without unpleasant side effects."
With a very rapid onset of 20 minutes or less, Genius helps you perform cognitive miracles and tackle everyday tasks. It's a great substitute for coffee or energy drinks if you need to be mentally on your toes, and it works incredibly well to help push you over the hump of procrastination, disorganized thinking, stress-induced mental paralysis, and brain fog.
Genius contains the lowest dose of THC of all 1906 products, at 2.5mg. Currently, this experience is only available in our new 1906 Drops format, a swallowable coated tablet that is highly portable, discreet, zero calories, gluten-free, and 100% vegan.
As Genius is the newest of our products, and the longest in the making, we'd be honored if you shared your experience with 1906 Genius. Send us your Genius stories here.
SUPPLEMENT FACTS
SERVING SIZE 2 DROPS (1.5G), SERVINGS 15, AMOUNT PER SERVING: GREATER GALANGAL ROOT EXTRACT (ALPINIA GALANGA) 250MG*, BACOPA WHOLE HERB EXTRACT (BACOPA MONNIERI) 300MG*, RHODIOLA ROOT EXTRACT (RHODIOLA ROSEA) 250MG*, L-THEANINE 80MG*, THEOBROMINE 75MG*, CAFFEINE 40MG*, CANNABIS EXTRACT 10MG*.
*DAILY VALUES NOT ESTABLISHED.
OTHER INGREDIENTS
CALCIUM CARBONATE, SILICON DIOXIDE, CROSSPOVIDONE, COPOVIDONE, MICROCRYSTALLINE CELLULOSE, CROSSCARMELLOSE SODIUM, SODIUM STARCH GLYCOLATE, MAGNESIUM STEARATE, HYDROXYPROPYL METHYLCELLULOSE, GLYCERINE, TITANIUM DIOXIDE, RIBOFLAVIN.
MANUFACTURED IN A FACILITY THAT PROCESSES: MILK, SOY, PEANUTS, TREE NUTS
Effects
Energetic
Happy
Creative
Focused
Inspired
View Product Testing Data
THC-D9 (Delta 9–tetrahydrocannabinol)
75
THC-D9 (Delta 9–tetrahydrocannabinol)-75
About the brand :
1906
1906 is named for the last time cannabis was nationally accepted as a beneficial, versatile medicine. We believe it's high time to bring cannabis back to the mainstream for the greater good (and the greater fun). Our mission is to revolutionize self-care with more effective, more accessible options for everyday needs. We have created six thoughtfully-engineered formulas to help you do all the life stuff better—whether that's improving energy levels, relaxation, focus, mood, sex, or sleep. Each formulation is an optimal combination of medicinal plants and single-strain pesticide free cannabis. Every 1906 experience—whether it's chocolate or a swallowable pill--contains a patented technology that makes it the fastest-acting edible in the world, with an onset of 20 minutes or less.