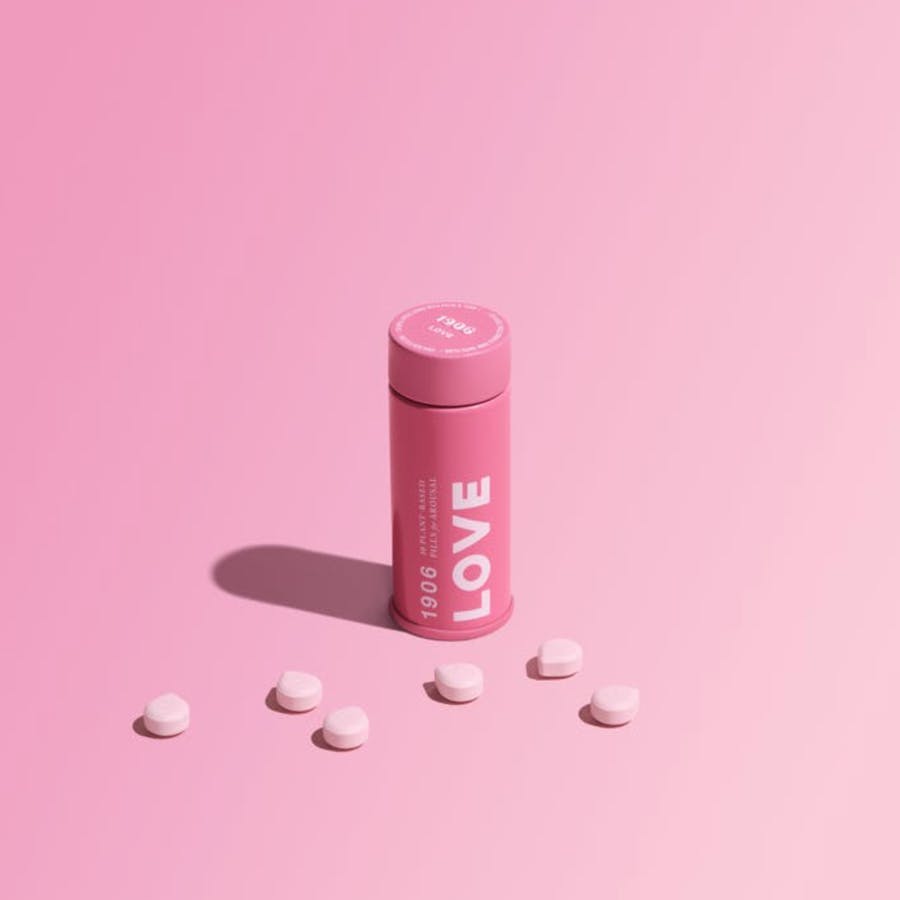 Brand: 1906
Drops | Love 1:1 | 75mg THC/75mg CBD | 30pk | 1906
High CBD
THC:75mg
CBD:86.1mg
Love uses optimal doses of five herbal aphrodisiacs and sense-enhancing cannabis to create the best sex drug in the world. It's the first aphrodisiac that was designed to be equal opportunity and works consistently well on all genders. Love was thoughtfully created to target modern life's common obstacles to great sex; it's not just our bodies that have trouble getting in the mood, but our brains as well. That's why Love is formulated for both a physical and psychological high, working to increase blood flow to the pelvic area and boost sensation while also helping you relax and get out of your head. So, who needs Love? Love is great for date nights, for your 40th anniversary, for sexplorers, for post-menopausal women, for erectile- challenged men, for couples who want to reconnect, or for anyone who wants to get to know their body in a whole new way. Peak intensity is about two hours in, so plan your date with Love accordingly. You'll start feeling Love slowly kick in at about 20 minutes. Then it's time to let go and enjoy the truly incredible body sensations.
SUPPLEMENT FACTS SERVING SIZE 2 DROPS (1.5G), SERVINGS 15, AMOUNT PER SERVING: ASHWAGANDHA ROOT EXTRACT (WITHANIA SOMNIFERA) 150MG\*, THEOBROMINE 200MG\*, MUIRA PUAMA BARK EXTRACT (PTYCHOPETALUM OLACOIDES) 150MG\*, CATUABA BARK EXTRACT (ERYTHROXYLUM CATUABA) 100MG\*, DAMIANA LEAF EXTRACT (TURNERA DIFFUSA) 40MG\*, CANNABIS EXTRACT 10MG\*.
-------
INGREDIENTS: Calcium Carbonate, Silicon Dioxide, Dextrose, Crospovidone, Microcrystalline Cellulose, Croscarmellose, Sodium, Sodium Starch Glycolate, Magnesium Stearate, Hydroxypropyl Methylcellulose, Polyvinyl Alcohol, Polyethylene Glycol, Talc, FD&C Red 40, FD&C Yellow 6
Effects
Clear Mind
Calm
Relaxed
Happy
View Product Testing Data
THC-D9 (Delta 9–tetrahydrocannabinol)
75
THC-D9 (Delta 9–tetrahydrocannabinol)-75
About the brand :
1906
1906 is named for the last time cannabis was nationally accepted as a beneficial, versatile medicine. We believe it's high time to bring cannabis back to the mainstream for the greater good (and the greater fun). Our mission is to revolutionize self-care with more effective, more accessible options for everyday needs. We have created six thoughtfully-engineered formulas to help you do all the life stuff better—whether that's improving energy levels, relaxation, focus, mood, sex, or sleep. Each formulation is an optimal combination of medicinal plants and single-strain pesticide free cannabis. Every 1906 experience—whether it's chocolate or a swallowable pill--contains a patented technology that makes it the fastest-acting edible in the world, with an onset of 20 minutes or less.