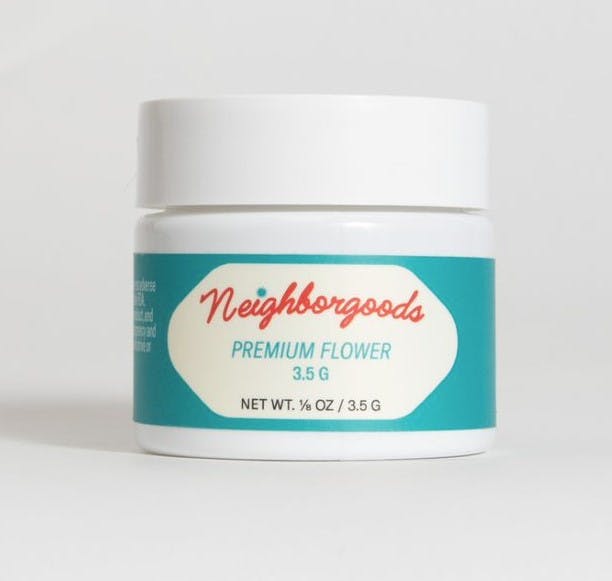 Brand: Neighborgoods
Egg Roll | Neighborgoods
Egg Roll is a unique and delightful strain that delivers a blend of sweet and savory flavors and a well-rounded high. This indica-dominant hybrid is celebrated for its mouthwatering aroma, distinctive taste, and versatile effects. It is believed to be a cross of Chemdawg and Biscotti. Egg Roll's color palate ranges from vibrant forest green to deep purple, often with stout orange pistils. This strain's buds have an appealing density and a slightly conical shape with a moderate frosting of white trichomes.
Egg Roll emits a blend of sweet and savory scents that evoke the sensation of indulging in a delicious meal. It has a complex fragrance characterized by sweet terpenes with spicy undertones and a subtle earthiness. Upon inhalation, you'll experience a burst of sweet and tangy flavors reminiscent of citrus and tropical fruits beautifully balanced by savory, herbal, and slightly spicy undertones.
Many have shared that Egg Roll offers a balanced experience that begins with a gentle cerebral uplift and a sense of happiness and creativity. As the high progresses, many note a transition from a heavy cerebral experience to a soothing physical one. They feel relaxed, tranquil and comforted. This dynamic but balanced experience makes it suitable for anytime of day.
Effects
Calm
Happy
Relaxed
Energetic
View Product Testing Data
THC-D9 (Delta 9–tetrahydrocannabinol)
0.8%
THC-D9 (Delta 9–tetrahydrocannabinol)-0.8%
THCA (Δ9-tetrahydrocannabinolic acid)
33.06%
THCA (Δ9-tetrahydrocannabinolic acid)-33.06%