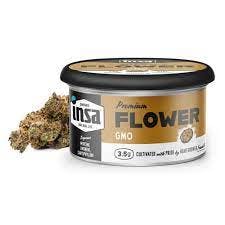 Brand: Insa
GMO | Insa
GMO, also known as as "GMO Garlic Cookies" and "Garlic Cookies," is a potent indica-dominant hybrid marijuana strain made by crossing Girl Scout Cookies with Chemdawg. This strain produces a euphoric high with mentally uplifting effects. Consumers say Garlic Cookies promotes an incredible body high that leaves you feeling relaxed and free from pain. In large doses, this strain may lock you to the sofa and make you feel sedated. As a descendent from Girl Scout Cookies, you can expect louds flavors from Garlic Cookies, like a diesel aroma and a garlic-forward taste that lingers on your tastebuds.
Effects
Relaxed
Sleepy
Happy
View Product Testing Data
THCA (Δ9-tetrahydrocannabinolic acid)
30.6%
THCA (Δ9-tetrahydrocannabinolic acid)-30.6%
THCA is a cannabis compound with a laundry list of potential mental and physical health benefits. THCA is the non-psychoactive precursor to THC, the most famous cannabinoid of all. While THC is responsible for the psychoactive "high" that so many of us enjoy, THCA has shown great promise as an anti-inflammatory, neuroprotectant and anti-emetic for appetite loss and treatment of nausea. THCA is found in its highest levels in living or freshly harvested cannabis samples. For this reason some users choose to juice fresh cannabis leaves and flowers to get as much THCA as possible.
About the brand :
Insa
Insa is not some la-di-da so-and-so that's going to carry you away to a land of make believe. It's cannabis for real life: the good days and the 'bout to get better. Insa offers premium cannabis in a variety of formats and functions to help wind you up, calm you down, ease your ailments—and whatever you need in between.