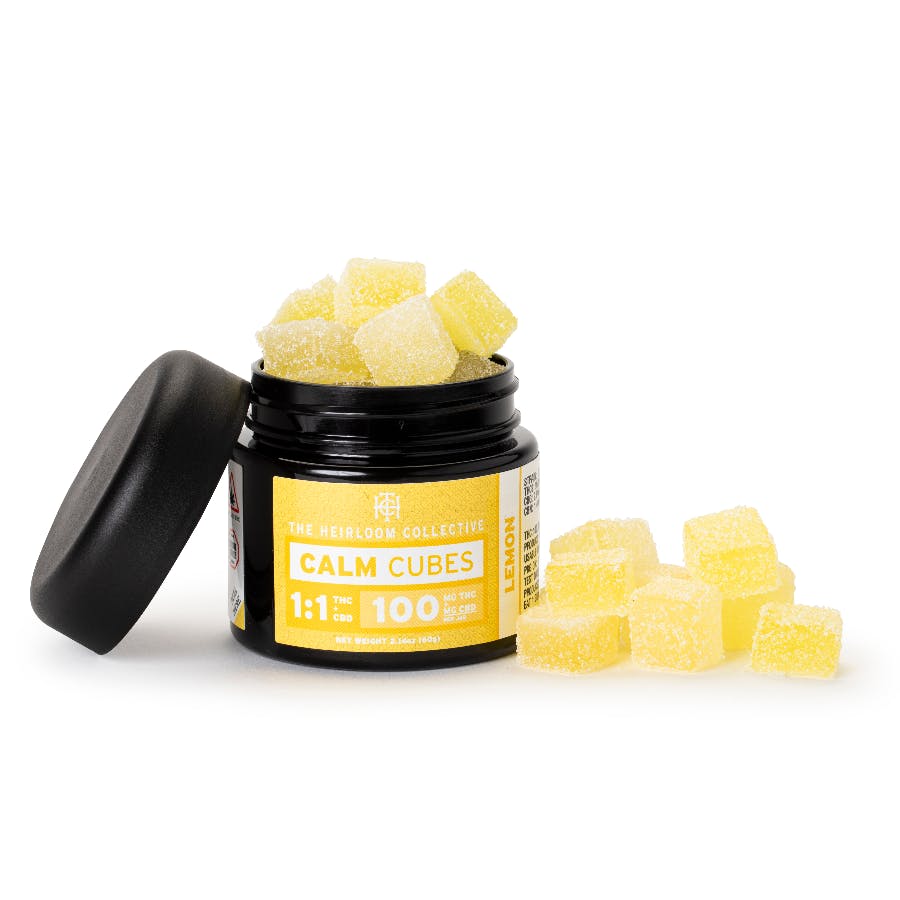 Brand: The Heirloom Collective
Gummies | Calm Cubes 1:1 THC:CBD | 100mg | 20pk | The Heirloom Collective
High CBD
THC:97.2mg
CBD:95.6mg
The Heirloom 1:1 Calm Cubes are a great lemon-flavored edible to ease tension and melt away your daily stressors with both CBD and THC. Calm cubes have a specifically curated terpene profile of limonene and linalool aimed at relief from pain, stress, and anxiety. They are also all-natural colors and flavors. Fast, potent, and accurate dosing (5mg per cube) makes these cubes a functional homerun.
Edibles are digested and absorbed by your stomach and liver. The activation is often longer than other consumption methods, taking on average 45 minutes, and sometimes up to 2 hours. It is important to start low and slow when consuming edibles so you don't over do it. Ensure edibles are out of the reach of children.
Effects
Clear Mind
Calm
Relaxed
Happy
View Product Testing Data
THC-D9 (Delta 9–tetrahydrocannabinol)
97.2
THC-D9 (Delta 9–tetrahydrocannabinol)-97.2
About the brand :
The Heirloom Collective
In their state-of-the-art facility, Heirloom Collective combines world-class genetics with an incredibly talented cultivation and processing team. Further use of climate and irrigation automation allows their Cultivation Team to give the needed individual attention to each strain's ideal growth plan. Their innovative cultivation technique does not use foliar or pesticides; they focus on optimal climate and microbial root-environment to maintain plant health. This is the bedrock of their Gently Grown Philosophy. Their mission is to produce the highest-quality cannabis and maximize efficiency; passing on maximum value to our patients & customers.