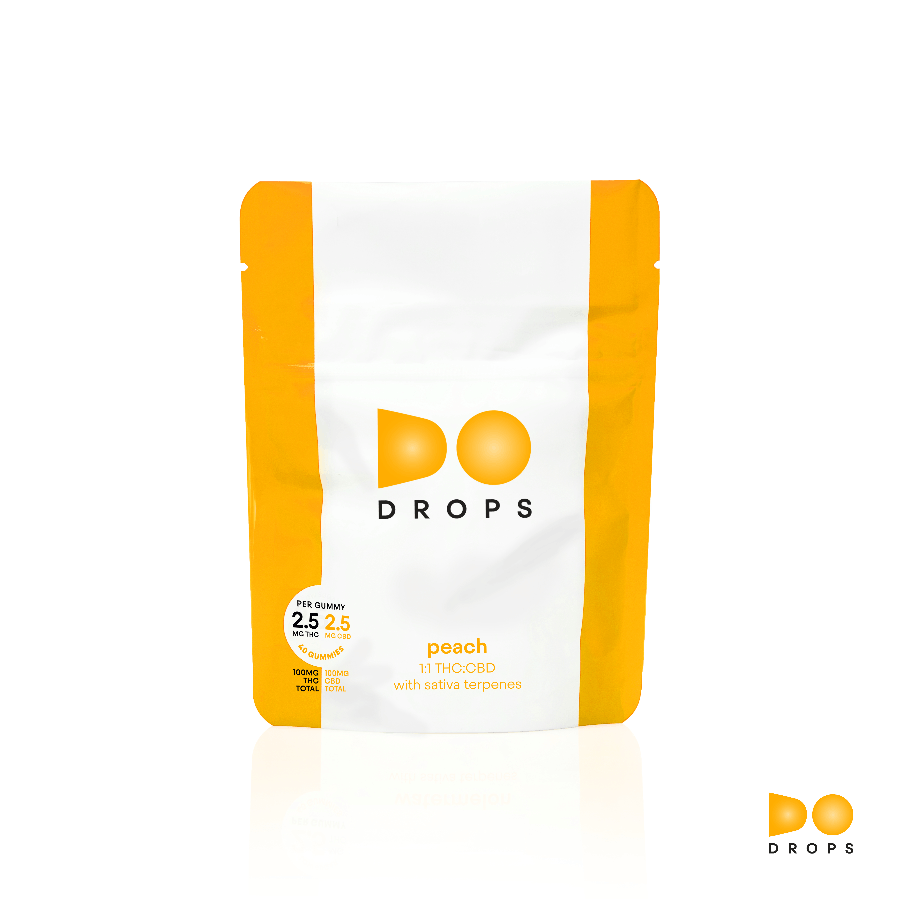 Brand: DO Drops
Gummies | Peach 1:1 | 100mg | 40pk | Do Drops
High CBD
THC:95.43mg
CBD:97.73mg
LOW-DOSE MEANS HIGH REWARD At just 2.5mg per piece, DO Drops are the low-dose alternative customers have been waiting for — or didn't know they needed. Most of our "can DO" gummies are made with terpenes and low sugar for a healthy pick-me-up. Peach DO Drops are a 1:1 THC:CBD formula for a hot take on chill.
Effects
Clear Mind
Calm
Relaxed
Happy
View Product Testing Data
CBD (Cannabidiol)
97.73
CBD (Cannabidiol)-97.73
CBD is the second most prevalent cannabinoid and is primarily produced by hemp plants and at lower amounts in cannabis. It works as a phytocannabinoid, or binding agent, that adheres to an individual's endocannabinoid system. Cannabidiol has soared in popularity due to its lack of psychoactive effects. Most users seek CBD for its medicinal properties since it was the first cannabinoid to be approved by the FDA. Its healing properties include an ability to help you relax, reduce irritability and ease restlessness.
About the brand :
DO Drops
WHY IT'S WILD TO BE MILD Many of us automatically think of edibles as potent and unpredictable. Longtime patients may have had a bad run-in with a cookie or brownie. Others could be fearful to try edibles based on horror stories from friends. That's why it's wild to be mild.