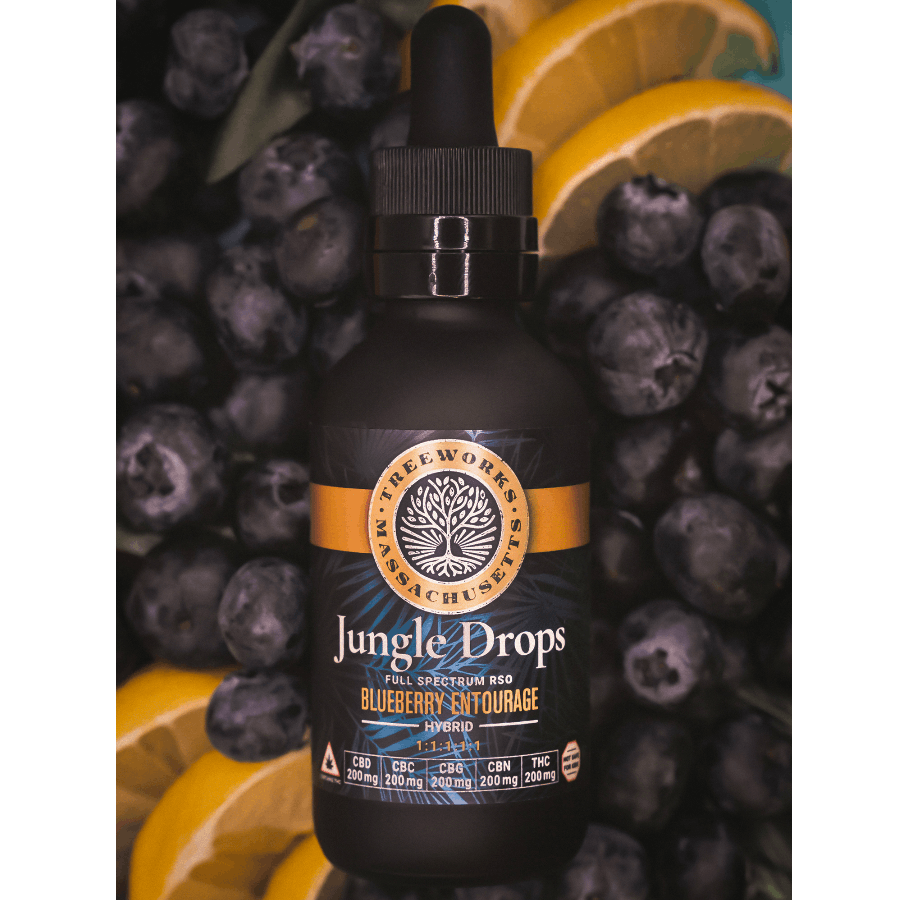 Brand: Treeworks
Jungle Drops 1:1:1:1:1 Tincture | 2oz | Treeworks
High CBD
THC:197.5mg
CBD:216.58mg
DESCRIPTION
The 2022 High Times Cannabis Cup Winner. Enjoy the complete "Entourage Experience"! Packed with medicinal benefits, Jungle Drops provide well-balanced and highly enjoyable effects. Combining the 5 most well-paired cannabinoids: THC, CBD, CBG, CBN, and CBC into one tincture, Jungle Drops create an uplifting yet soothing mind and body experience unlike the rest. A new company favorite.
PROPERTIES
• Blueberry Pie Flavor
• Soothes Pain
• Euphoric/Relaxing
• Full Body High
• Full Spectrum/Full Cannabinoid
• Organic, Vegan, Gluten Free, Sugar Free
INGREDIENTS
Read Less
• Organic Conconut Oil
• Cannabis RSO
• CBD
• CBG
• CBN
• CBC
• Organic Flavors
• Organic Stevia
CANNABINOIDS
• CBD may help with anxiety, pain, muscle relaxation and happiness
• CBN may help with sleep, pain, anxiety and as an anti-bacterial
• CBG may help with focus, attention, inflammation and appetite
• CBC may help with mood, pain, skin and inflammation
Effects
Calm
Happy
Relaxed
Clear Mind
View Product Testing Data
THC-D9 (Delta 9–tetrahydrocannabinol)
197.5
THC-D9 (Delta 9–tetrahydrocannabinol)-197.5
CBG (Cannabigerol)
208.49
CBG (Cannabigerol)-208.49
About the brand :
Treeworks
Treeworks Brings quality, healthy, and fun products to the Commonwealth. Their exceptional products create a wonderfully balanced and full-bodied experience known as the "entourage effect". This is achieved by using only full-spectrum and full cannabinoid cannabis oil. You can truly notice the difference with Treeworks products.