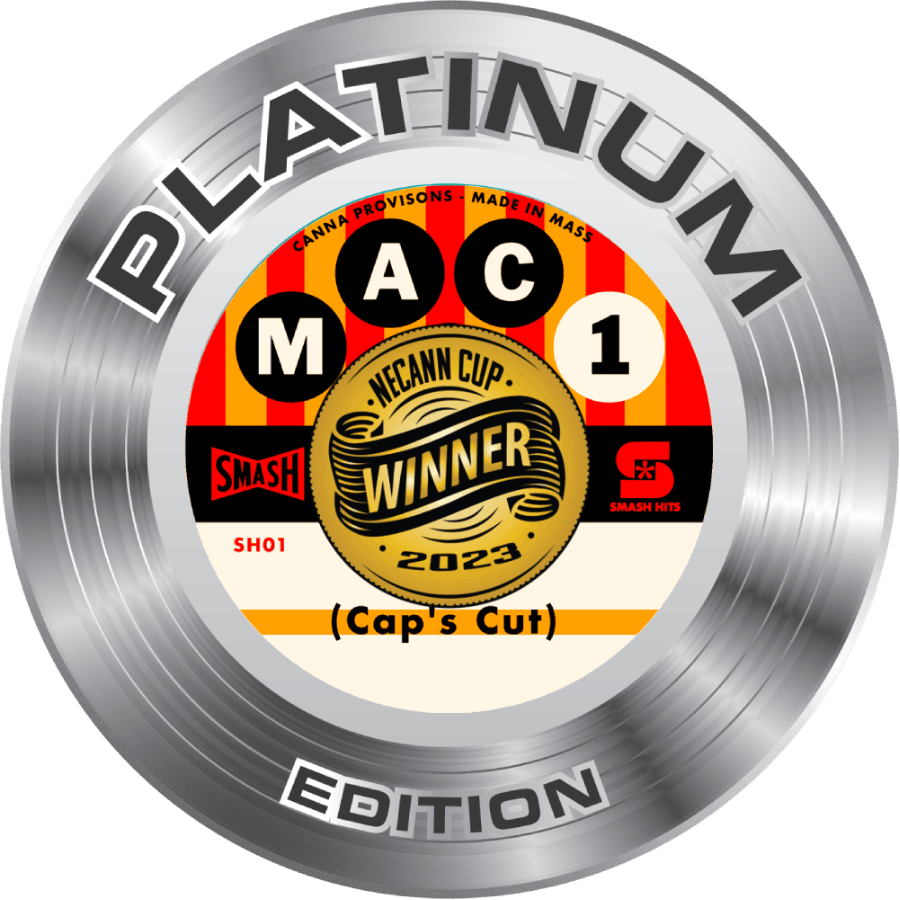 Brand: Smash Hits
Mac 1 (Cap's Cut) | 1g Buds | Smash Hits Platinum
NECANN 2023 HYBRID FLOWER 5TH PLACE WINNER! Who's Cap you may say? Short for Capulator, he is an old school breeder from the days of genetic message boards. And his MAC 1 - short for "Miracle Alien Cookies" but also has been called "Mother of All Cannabis" - is the stuff of legend and song. With grandparent origins of Starfighter x Colombian, Cap forgot about seeds he got from that cross before the seeds survived an ill fated trip to the washing machine. Of the 15 seeds that germinated only one plant survived: "Miracle 15" pheno. That Miracle 15 crossed with Alien Cookies F2 #7 to make the eventual MAC 1. What we have here is the Caps Cut version of his MAC1, so it's a cut from his personal crop. Cap decided to make a rule for the MAC: Only those who had put in the time and had a passion for the plant would get his genetics and cuts. Thanks to Chemdog, our Smash Hits is one of those chosen cultivators. And now it's available to you. FAMILY HISTORY: Alien Cookies F2 #7 x Miracle 15 PALATE: Citrus + herbs, pistachios, sour cherry, yogurt EFFECT: Strong, balanced uplifting side of things, mood enhancer that skews productive and talkative with an overall relaxing and dreamy high.
Effects
Happy
Creative
Relaxed
Uplifted
View Product Testing Data
Limonene
0%
Limonene
0%
Limonene is found in citrus rinds and is the second most commonly occurring terpene in nature. This terpene has been used in high dosages as a catalyst in topical products to allow other chemical compounds to pass through the skin for absorption in the blood.
Aromas
Citrus
Lemon
Herbal
Potential Health Benefits
Cancer Fighting
Anti-anxiety
Anti-depression
Stress Relief
Brain Function
Gastrointestinal
Anti-inflammatory
Linalool
0%
Linalool
0%
Linalool is a multi-use terpene that carries a strong calming effect as well as an ability to act as an anticonvulsant in epileptic patients. Found in the plants rosewood, coriander, & lavender, Linalool is a popular terpene commonly present in over 200 species of plants across the world. Linalool is a good addition to your terpene selection when looking for a little R & R.
Aromas
Floral
Herbal
Lavender
Effects
Comfort
Potential Health Benefits
Anti-anxiety
Anti-inflammatory
Sedative
Pain Relief
Stress Relief
Sleep aid
Cancer Fighting
Beta Caryophyllene
0%
Beta Caryophyllene
0%
Beta-caryophyllene is known for it's wide variety of potential health benefits both physically & mentally. This terpene has a unique ability to bind to the CB2 receptors; CB2 receptors are targeted when treating pain & inflammation with cannabis. Beta-caryophyllene is also approved for use in food by the FDA & is commonly found in black pepper, cinnamon, & basil.
Aromas
Sharp
Spice
Sweet
Wood
Potential Health Benefits
Anti-inflammatory
Gastrointestinal
Cancer Fighting
Anti-depression
Anti-anxiety
Pain Relief
Brain Function
Anti-diabetic