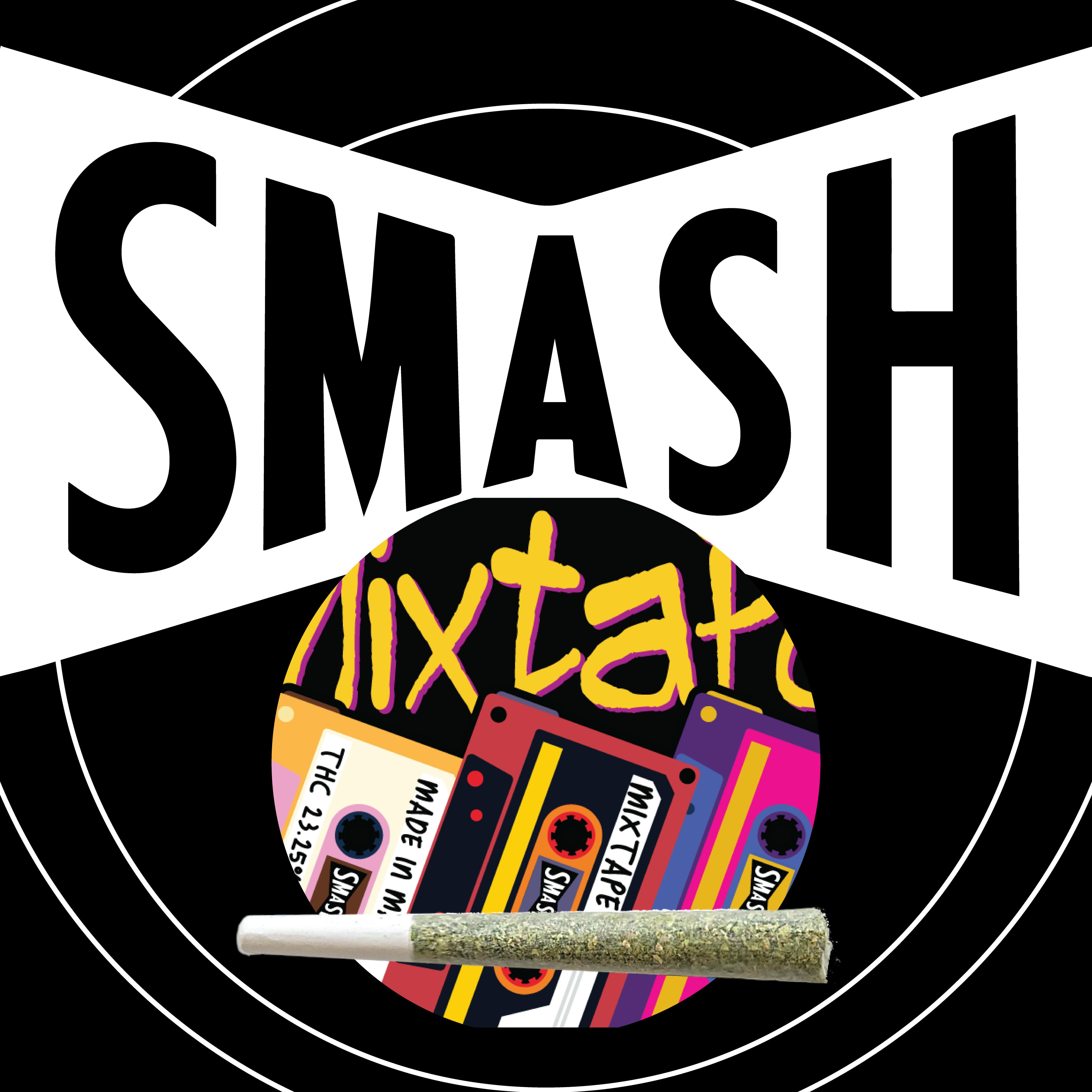 Brand: Smash Hits
Mixtape Vol. 10 | 1g | Smash Hits
Biscotti Mintz, California Raisins, Waffle Cone
BISCOTTI MINTZ
Biscotti x Mintz (Indica-leaning hybrid)
Hailing from the true connoisseurs realm of designer cannabis, this luscious flower is rich in aroma and flavor from the distinctive terpene profile that yields chocolate chip cookies, minty whip cream, and warming spice. The buds burst with orange hairs and moss green with some violet accents for effects that inspire creative and focused mindsets and a distinct slow, energizing body high that remains relaxed and collected throughout. Do not miss this strain.
FAMILY HISTORY: Biscotti x Mintz
PALATE: Chocolate chip cookies, creamy mint, and effervescent spice.
EFFECT: Creative and focused mindset with a slow, energizing body high that maintains a deep relaxing finish.
CALIFORNIA RAISINS
Biscotti x Grape Gasoline (Indica-leaning Hybrid)
Whatever images the name may conjure in your head, there's only one thing you need to picture with this strain: FLAVOR.
The terpene explosion of the Smash Hits California Raisins – which is a 2022 High Times People's Choice Cannabis Cup for Massachusetts winner – comes courtesy of the lineage of Biscotti and Grape Gasoline, two fan-favorite indica dominant hybrids. But it's the combination of the cookie batter, petrol, and deep grape flavors and the fantastic cerebral uplift and body calming effects that makes this one a surefire win for anyone looking for their next favorite strain from Smash Hits.
FAMILY HISTORY: Biscotti x Grape Gasoline
PALATE: Sweet cookies and diesel fumes soaked in a barrel of grape jelly
EFFECT: Cerebral yet relaxing, full head-to-toe body buzz and relaxation with supreme good-feeling vibes.
WAFFLE CONE
Jet Fuel Gelato x Dosilato (Indica-leaning hybrid)
Classic indica lovers can rejoice as hard as flavor seekers with the Smash Hits cut of Waffle Cone. Grown for its impressive lineage, and sweet sugar cream and toasted nuts flavors that are kissed by tart cherries and fruity bouquet, this is a heavy hitter that starts heady, social, and chatty and slowly brings on big, heavy body effects and head-to-toe relaxation. Stellar genetics + Chemdog and the Smash Hits team make this an all star strain.
FAMILY HISTORY: Jet Fuel Gelato x Dosilato
PALATE: Toasted nuts and ice cream cone sweet, with cherries and sugar fruit.
EFFECT: Heady and social with physical tingles that slides into couch-lock heavy, with stimulating mind euphoria and positive head-to-toe relaxation.
Effects
Calm
Happy
Relaxed
Energetic
View Product Testing Data
THC-D9 (Delta 9–tetrahydrocannabinol)
17.07%
THC-D9 (Delta 9–tetrahydrocannabinol)-17.07%
THCA (Δ9-tetrahydrocannabinolic acid)
17.07%
THCA (Δ9-tetrahydrocannabinolic acid)-17.07%