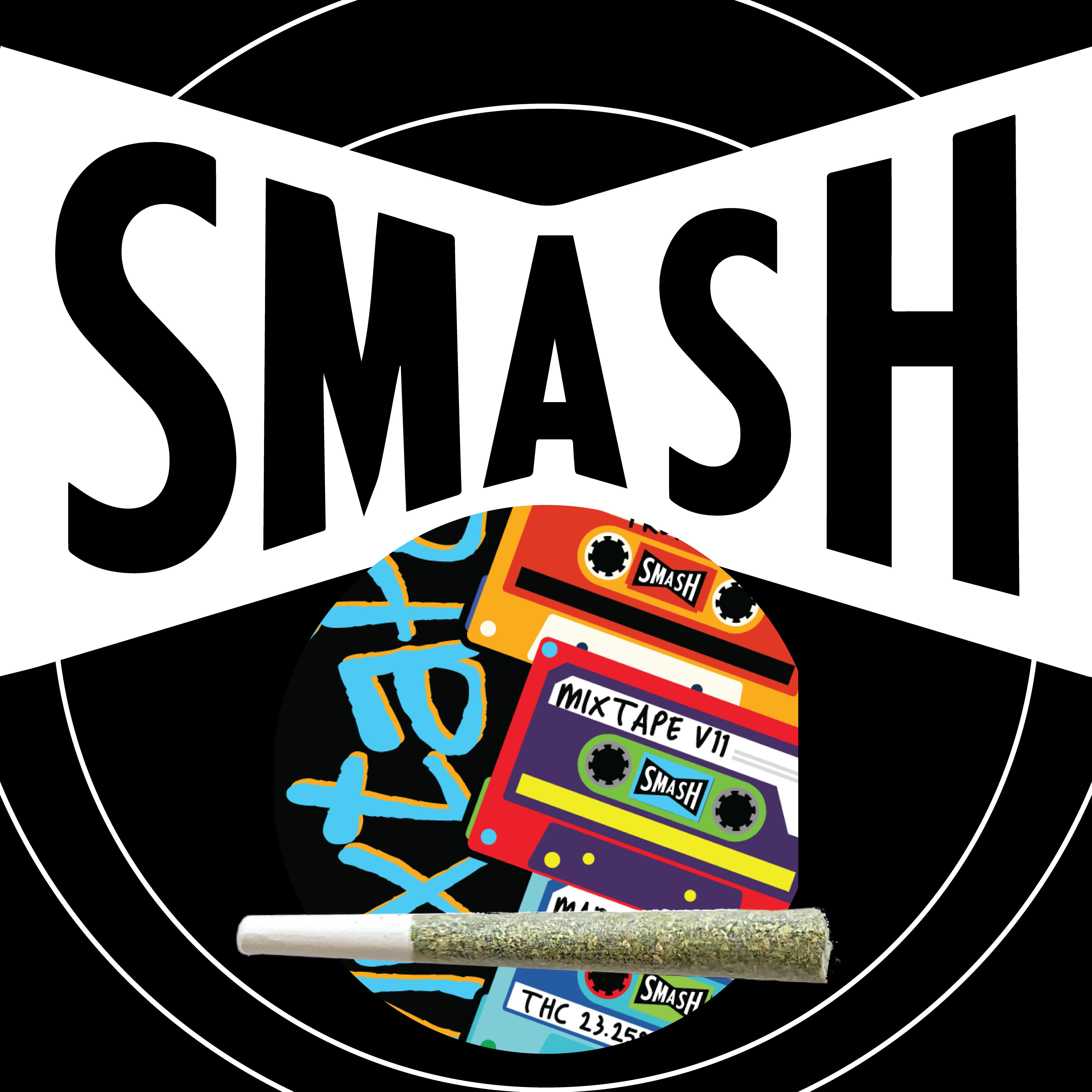 Brand: Smash Hits
Mixtape Vol. 11 | 1g | Smash Hits
MAC 1, MassMosa, MemberBerry.
MAC 1 (CAP'S CUT)
Alien Cookies x Miracle 15 (50-50 Hybrid)
Who's Cap you may say?
Short for Capulator, he is an old school breeder from the days of genetic message boards. And his MAC 1 – short for "Miracle Alien Cookies" but also has been called "Mother of All Cannabis" – is the stuff of legend and song. With grandparent origins of Starfighter x Colombian, Cap forgot about seeds he got from that cross before the seeds survived an ill fated trip to the washing machine. Of the 15 seeds that germinated only one plant survived: "Miracle 15" pheno. That Miracle 15 crossed with Alien Cookies F2 #7 to make the eventual MAC 1. What we have here is the Caps Cut version of his MAC1, so it's coming from his personal crop. Cap decided to make a rule for the MAC: Only those who had put in the time and had a passion for the plant would get his genetics and cuts. Thankfully one of those is the Smash Hits crew. And now it's available to you.
FAMILY HISTORY: Alien Cookies F2 #7 x Miracle 15
PALATE: Citrus + herbs, pistachios, sour cherry, yogurt
EFFECT: Strong, balanced uplifting side of things, mood enhancer that skews productive and talkative with an overall relaxing and dreamy high.
MASSMOSA
Clementine x Purple Punch (50-50 Hybrid)
Call it Clementine x Purple Punch. Call it a plant that reeks of sugar fruit and citrus frosting. But whatever you do, don't call Massmosa anything other than one of the most special strains to come out of Smash Hits. Brought to life by Chemdog and the entire talented cultivation team in Sheffield MA, this Massmosa exuding the best aspects of the sweet orange and tropical citrus of Clementine with the earthy lavender of Purple Punch was selected from among hundreds of other phenotypes of the strain until the team found the perfect one to cultivate and bring to you. Ultimately this means you've got a winning strain that will be coveted by discerning palates and cannabis consumers and newcomers alike.
PALATE: Sweet orange and tropical citrus with a touch of earth.
EFFECT: A perfect hybrid line of wake and bake uplift with heady euphoric highs, great for creative endeavors, all of it wrapped in supreme-contentment vibes.
"Sure to impress flavor hounds and connoisseurs who are looking for a bit of that west coast sweetness with their Mass gas." – Northeast Leaf Magazine reviewing Massmosa for the November 2021 Strain of the Month magazine profile.
MEMBER BERRY
Skunk Berry x Mandarin Sunset (Indica-leaning hybrid)
This Smash Hits example of crowd favorite strain Member Berry is the best you can find in Massachusetts. The famous hybrid that brings euphoric mood lift and amazing body relaxation without the couchlock is fueled by gorgeous flower buds with focused terpenes and strong genetics making for a long-lasting, potent high and sweet and sour flavors and aromas.
FAMILY HISTORY: Skunk Berry x Mandarin Sunset
PALATE: Tropical fruit and citrus soaked in sugarwater with layers of skunk
EFFECT: Euphoric sharp focused mood lift that hits the body with an elevated relaxation and supreme calming sensation.
Effects
Calm
Happy
Relaxed
Energetic
View Product Testing Data
THC-D9 (Delta 9–tetrahydrocannabinol)
21.13%
THC-D9 (Delta 9–tetrahydrocannabinol)-21.13%
THCA (Δ9-tetrahydrocannabinolic acid)
21.13%
THCA (Δ9-tetrahydrocannabinolic acid)-21.13%