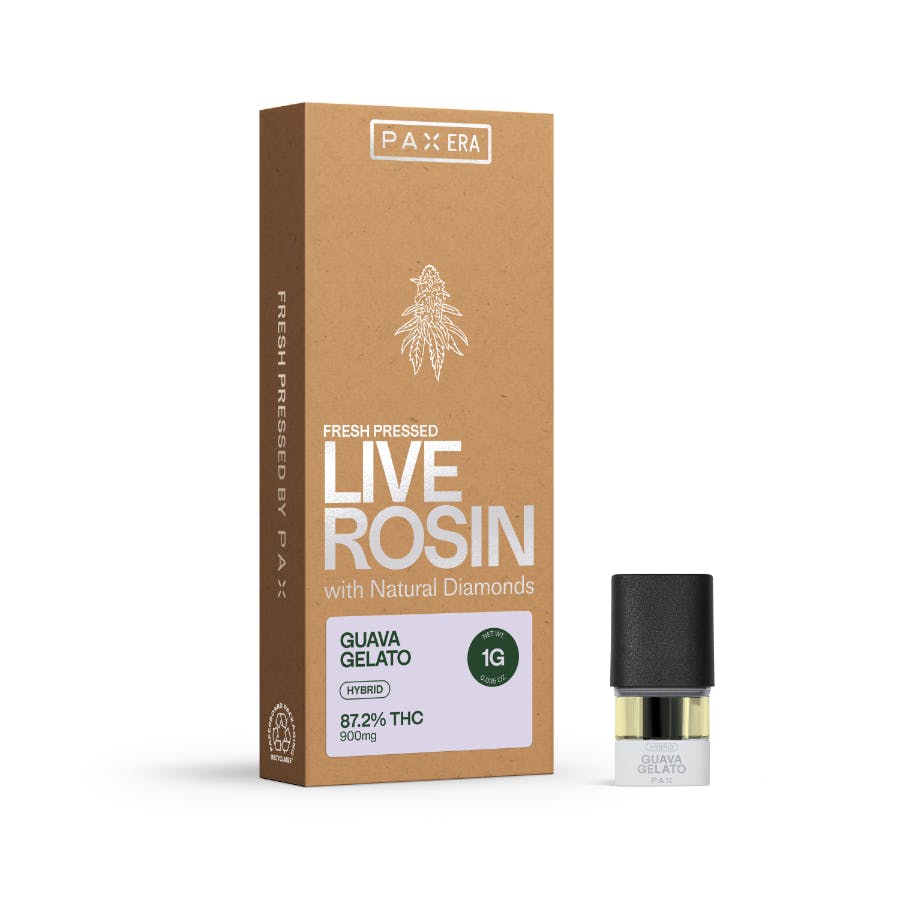 Brand: PAX
PAX | Guava Gelato Live Rosin | 1g | PAX
This Hybrid is just as deliciously dreamy as it sounds. Guava Gelato is a cross of Guava and Gelato cultivars with a creamy, tropical aroma and bright notes of piña colada. Uplifting for the mind and relaxing for the body, Guava Gelato can help you get to your happy place. FLAVORS Tropical, Creamy EFFECTS Uplifting, Relaxing KEY TERPENES Limonene, Caryophyllene FRESH PRESSED LIVE ROSIN With Natural Diamonds The Perfectly Balanced, Full Flower Experience Our Live Rosin is the fullest expression of the flower, frozen at the peak of harvest and fresh-pressed to preserve all the natural cannabinoids, terpenes, and plant compounds. When enhanced with Natural Diamonds, the purest form of THC, you get the perfect balance of potency and flavor. Each pod is all-natural and 100% cannabis - free from any residual solvents, additives or other impurities
Effects
Calm
Happy
Relaxed
Energetic
View Product Testing Data
THCA (Δ9-tetrahydrocannabinolic acid)
88.5%
THCA (Δ9-tetrahydrocannabinolic acid)-88.5%
THCA is a cannabis compound with a laundry list of potential mental and physical health benefits. THCA is the non-psychoactive precursor to THC, the most famous cannabinoid of all. While THC is responsible for the psychoactive "high" that so many of us enjoy, THCA has shown great promise as an anti-inflammatory, neuroprotectant and anti-emetic for appetite loss and treatment of nausea. THCA is found in its highest levels in living or freshly harvested cannabis samples. For this reason some users choose to juice fresh cannabis leaves and flowers to get as much THCA as possible.
"TAC" - Total Active Cannabinoids
89%
"TAC" - Total Active Cannabinoids-89%
Total active cannabinoids represent the total amount of active cannabinoids at the time of lab testing. This total of active cannabinoids considers all of the active compounds that the product holds.
About the brand :
PAX
PAX delivers well-being through pure products, unique experiences, and an unparalleled passion for the plant. For more than a decade, we've provided products that are simple, enjoyable, and trusted by millions. We believe in creating sustainable opportunities through cannabis.