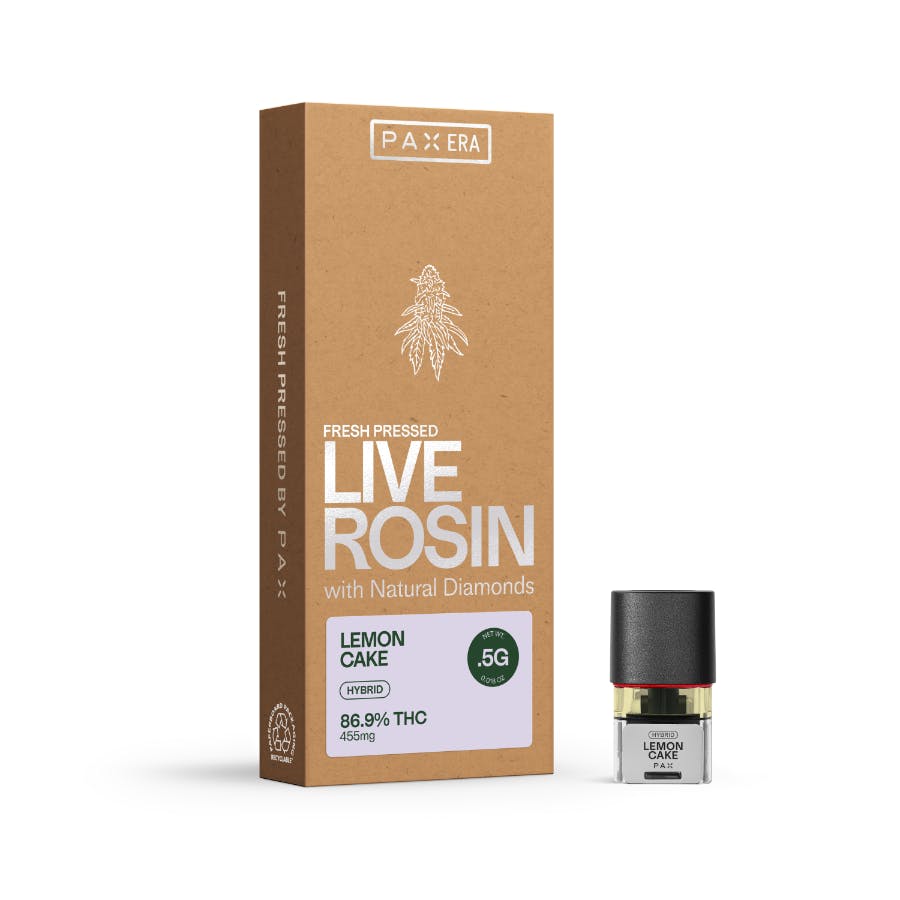 Brand: PAX
PAX | Lemon Cake Live Rosin | .5g | PAX
You're gonna want seconds of this cake. Lemon Cake is a sativa-dominant Hybrid cross of Vietnam Land Race, Skunk #1, Thai and NL5. A tart, lemony upfront flavor and a creamy, almost cake batter aftertaste accompany its delightfully energetic and creative effects. Lemon Cake serves up a lively twist to your favorite slice-of-life moments.
FLAVORS
Tart, Citrus
EFFECTS
Energizing, Focusing
KEY TERPENES
Myrcene, Terpinolene
FRESH PRESSED LIVE ROSIN With Natural Diamonds
The Perfectly Balanced, Full Flower Experience
Our Live Rosin is the fullest expression of the flower, frozen at the peak of harvest and fresh-pressed to preserve all the natural cannabinoids, terpenes, and plant compounds. When enhanced with Natural Diamonds, the purest form of THC, you get the perfect balance of potency and flavor.
Each pod is all-natural and 100% cannabis - free from any residual solvents, additives or other impurities
Effects
Energetic
Happy
Creative
Focused
Inspired
View Product Testing Data
THC-D9 (Delta 9–tetrahydrocannabinol)
81.06%
THC-D9 (Delta 9–tetrahydrocannabinol)-81.06%
THCA (Δ9-tetrahydrocannabinolic acid)
81.06%
THCA (Δ9-tetrahydrocannabinolic acid)-81.06%
About the brand :
PAX
PAX delivers well-being through pure products, unique experiences, and an unparalleled passion for the plant. For more than a decade, we've provided products that are simple, enjoyable, and trusted by millions. We believe in creating sustainable opportunities through cannabis.