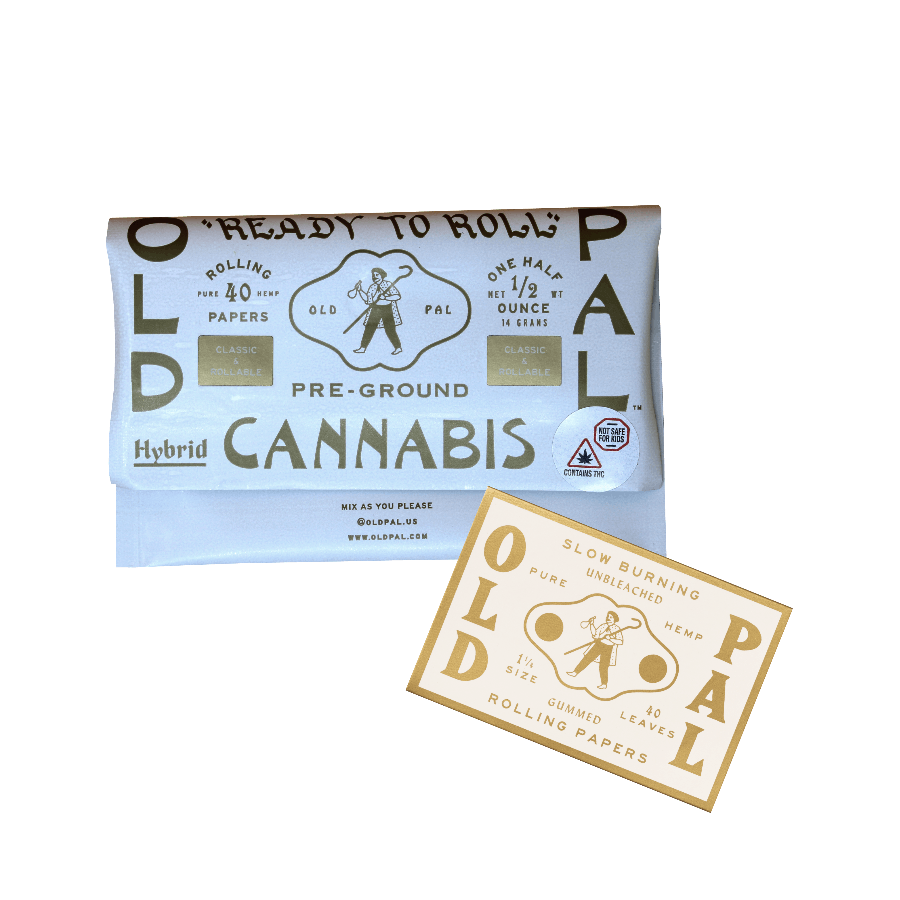 Brand: Old Pal
Skunk Hero x Ethos Cookies | Pre Ground Ready to Roll | 5g | Old Pal
Skunk Hero x Ethos Cookies Flower Skunk Hero is a cross between Super Skunk and Mandarin Sunset with a citrus, earthy aroma. Most users reported feeling creative, energetic, and focused. If you miss your old school Skunk cultivars then you are in luck: Skunk Hero by Ethos Genetics brings it back by crossing a 1994 Super Skunk with their Mandarin Sunset. The result produces a plant with big yields, an early finish, and a powerful nose. Skunk Hero may wind you down for a calm afternoon of euphoria and is accompanied by a delicious skunky and citrus terpene profile. Ethos Cookies puts the talents of breeder Ethos Genetics on full display. Ethos cookies is a sativa-dominant hybrid weed strain bursting with pepper, berry, grapefruit, and gassy terps, thanks to its Mandarin Cookies #17 and Colin OG #1 parents; the current version in their genetic library is Ethos Cookies R2, a cross of Ethos Cookies phenotypes #1 and #16. The Old Pal original Ready to Roll kits have everything you need for heightened adventures. Each kit contains quality pre-ground cannabis, crutches, and pure hemp rolling papers. Utilizing buds of all size and reducing overall bud waste, whole flower is coarsely ground for optimal smokability. Never shake, just pre-ground goodness. Convenient weed and less mess, perfect for rolling a joint or tucking into your favorite bong. Like a mini vacation in a pouch, the 5 gram Ready to Roll kit includes unbleached, hemp rolling papers, crutches, and classic pre-ground flower. Convenient and shareable, these handy kits make it easy to bring good vibes anywhere. CLASSIC SHAREABLE™ CANNABIS Accessible, affordable, and abundant, Old Pal's vision is simple: It's just weed, man. Neighbor grown and meant to be shared, our cannabis is all natural, sun-kissed, and rain-watered. Available in three simple varieties: Indica, Sativa, and Hybrid – this is weed for the people. Old Pal is an ode to simpler times, when weed was just weed and joints were passed around to old pals and new ones. When neighbors knew each other by name and community meant something. So grab a bag of Old Pal and pass it around. It's time we took care of each other!
Effects
Relaxed
Sleepy
Happy
View Product Testing Data
THCA (Δ9-tetrahydrocannabinolic acid)
20.2%
THCA (Δ9-tetrahydrocannabinolic acid)-20.2%
THCA is a cannabis compound with a laundry list of potential mental and physical health benefits. THCA is the non-psychoactive precursor to THC, the most famous cannabinoid of all. While THC is responsible for the psychoactive "high" that so many of us enjoy, THCA has shown great promise as an anti-inflammatory, neuroprotectant and anti-emetic for appetite loss and treatment of nausea. THCA is found in its highest levels in living or freshly harvested cannabis samples. For this reason some users choose to juice fresh cannabis leaves and flowers to get as much THCA as possible.
"TAC" - Total Active Cannabinoids
20.2%
"TAC" - Total Active Cannabinoids-20.2%
Total active cannabinoids represent the total amount of active cannabinoids at the time of lab testing. This total of active cannabinoids considers all of the active compounds that the product holds.
About the brand :
Old Pal
Old Pal flower is as classic as it gets. Available in Indica, Sativa, Hybrid, they keep it simple, like buying weed from back in the day. They utilize natural light, climates and cycles to grow quality cannabis, following Mother nature's guide, keeping environmental impact top of mind. All of this to provide you quality weed that's a pleasure to puff and 100% compliant to state testing.