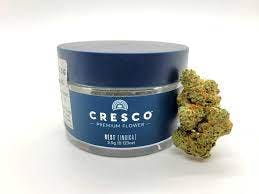 Brand: Cresco
Slippery Susan | Cresco
A gorgeous plant in the garden, her overwhelming gas n' musty laced stench cries out, even in the vegeative stage. Her deep, rich green foliage is beautifully contrasted by her bright, silverish flowers, garnished with dark red hairs. She produces so much grease, Pauly D could style his hair. Don't let the name fool you, Susan definitely gets you more stuck than slick.. that all day hold. Strain Genetics: Tina x Grease Monkey Blend: 80% Indica Flowering Time: 60-65 days Plant Height: Moderate size in the vegetation cycle and up to 2x her size in the flowering cycle Effects: Couch locking and brain drool bubbling. Flavor: Pungent, petrol, and musky.
Effects
Relaxed
Sleepy
Happy
View Product Testing Data
CBDA (Cannabidiolic acid)
0.1%
CBDA (Cannabidiolic acid)-0.1%
THC-D9 (Delta 9–tetrahydrocannabinol)
0.4%
THC-D9 (Delta 9–tetrahydrocannabinol)-0.4%
THCA (Δ9-tetrahydrocannabinolic acid)
26.4%
THCA (Δ9-tetrahydrocannabinolic acid)-26.4%
About the brand :
Cresco
Growing consistent premium cannabis for flower, liquid live resin cartridges, and live solid concentrates. Three different types of strains — Rise, sativas for energy and creativity, Refresh, hybrids for clarity and balance, and Rest, indicas for calm and relaxation — so you can be at your everyday best. Find products at a dispensary near you.nationwide, and their portfolio continues to evolve. With this in mind, Cresco delivers consistent quality, experience, and availability in a portfolio of flower, live concentrates, and liquid live resin. In a world where you can't find the same thing twice, Cresco delivers an excellent experience you can rely on.