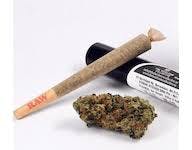 Brand: The Heirloom Collective
Sour African | .8g | The Heirloom Collective
Lineage: Chem x Mass Super Skunk x Northern Lights
Sour African - morphologically a classic Sativa, expressing tall, thin colas with long skinny leaf blades, long flowering times, and exotic terpenes. This strain goes deep into its Mass Super Skunk lineage for stinky aromas and large, elongated growth structure. The Northern Lights adds some finishing time allowing it to be cultivated indoors, and all three ancestors blend into a unique terpene profile - spicy, sweet, with the dominating smell being freshly shelled peanuts. Expect strong and creative energizing effects from Sour African.
Effects
Energetic
Happy
Creative
Focused
Inspired
View Product Testing Data
THC-D9 (Delta 9–tetrahydrocannabinol)
23.1%
THC-D9 (Delta 9–tetrahydrocannabinol)-23.1%
THCA (Δ9-tetrahydrocannabinolic acid)
23.1%
THCA (Δ9-tetrahydrocannabinolic acid)-23.1%
About the brand :
The Heirloom Collective
In their state-of-the-art facility, Heirloom Collective combines world-class genetics with an incredibly talented cultivation and processing team. Further use of climate and irrigation automation allows their Cultivation Team to give the needed individual attention to each strain's ideal growth plan. Their innovative cultivation technique does not use foliar or pesticides; they focus on optimal climate and microbial root-environment to maintain plant health. This is the bedrock of their Gently Grown Philosophy. Their mission is to produce the highest-quality cannabis and maximize efficiency; passing on maximum value to our patients & customers.