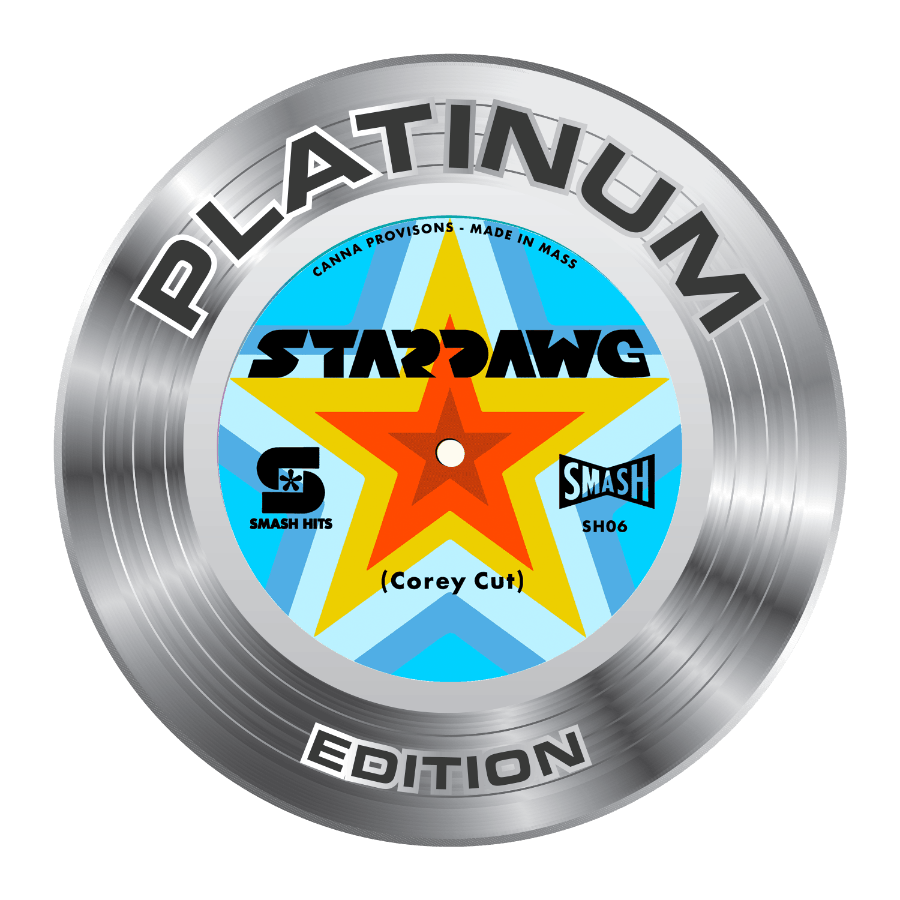 Brand: Smash Hits
Stardawg (Corey Cut) | 7g Smalls | Smash Hits Platinum
***ASK ABOUT OUR TIERED PRICING!*** JJ of Top Dog genetics famously bred this Stardawg using the "dawg" vs "dog" spelling out of respect to Chemdog (and to avoid confusion in the strains bred by each). What that also means is the Corey Cut is the coveted phenotype breeder AJ (of Sour Diesel fame) brought to the game, and he gave it the "Corey" moniker for reasons he can tell you if you ever meet him. We can tell you it's got plenty of the traits of its parents in the nose department. Of the various Stardawgs, the Corey Cut is the "novices-beware" one to write home about. FAMILY HISTORY: Chem 4 x Tresdawg PALATE: Spice, sour citrus and misty diesel gas, and essence of garlic for those who can catch it. EFFECT: Mental uplift and body flattening heavy hitter with a tendency to turn philosophical.
Effects
Creative
Inspired
Relaxed
Uplifted
View Product Testing Data
Beta Caryophyllene
0%
Beta Caryophyllene
0%
Beta-caryophyllene is known for it's wide variety of potential health benefits both physically & mentally. This terpene has a unique ability to bind to the CB2 receptors; CB2 receptors are targeted when treating pain & inflammation with cannabis. Beta-caryophyllene is also approved for use in food by the FDA & is commonly found in black pepper, cinnamon, & basil.
Aromas
Sharp
Spice
Sweet
Wood
Potential Health Benefits
Anti-inflammatory
Gastrointestinal
Cancer Fighting
Anti-depression
Anti-anxiety
Pain Relief
Brain Function
Anti-diabetic
Limonene
0%
Limonene
0%
Limonene is found in citrus rinds and is the second most commonly occurring terpene in nature. This terpene has been used in high dosages as a catalyst in topical products to allow other chemical compounds to pass through the skin for absorption in the blood.
Aromas
Citrus
Lemon
Herbal
Potential Health Benefits
Cancer Fighting
Anti-anxiety
Anti-depression
Stress Relief
Brain Function
Gastrointestinal
Anti-inflammatory
Humulene
0%
Humulene
0%
Commonly found in ginseng, ginger, & hops, Humulene is known to lend its robust characteristics to the different scents of cannabis. This terpene has been used in holistic practices for hundreds of years due to its strong anti-inflammatory properties. Humulene has also been reported to act as an appetite suppressant.
Aromas
Herbal
Spice
Woody
Earthy
Potential Health Benefits
Anti-inflammatory
Cancer Fighting
Appetite Suppressant
THCA (Δ9-tetrahydrocannabinolic acid)
25.38%
THCA (Δ9-tetrahydrocannabinolic acid)-25.38%
THCA is a cannabis compound with a laundry list of potential mental and physical health benefits. THCA is the non-psychoactive precursor to THC, the most famous cannabinoid of all. While THC is responsible for the psychoactive "high" that so many of us enjoy, THCA has shown great promise as an anti-inflammatory, neuroprotectant and anti-emetic for appetite loss and treatment of nausea. THCA is found in its highest levels in living or freshly harvested cannabis samples. For this reason some users choose to juice fresh cannabis leaves and flowers to get as much THCA as possible.
THC-D9 (Delta 9–tetrahydrocannabinol)
1.02%
THC-D9 (Delta 9–tetrahydrocannabinol)-1.02%
Delta 9 THC is the primary compound found in the resinous glands of a cannabis plant, and is directly responsible for psychoactive effects. It mirrors the body's naturally occurring cannabinoids and attaches to these receptors to alter and enhance sensory perception. THC can create a feeling of euphoria by enhancing dopamine levels in the brain. The amount of THC in a cannabis product can vary widely based on the method of consumption and the strain at the source of that product. The high that is produced is often enhanced by the "entourage effect" which is a combination of multiple cannabinoids in conjunction with various terpenes and individual body chemistry.
CBDA (Cannabidiolic acid)
0.1%
CBDA (Cannabidiolic acid)-0.1%
CBDA is a derivative of CBGA and the precursor to the well known cannabinoid CBD. Over the last decade scientists have found that CBDA has a very similar chemical structure to that of nonsteroidal anti-inflammatory drugs (NSAIDs) and thus has shown promise in treating pain due to inflammation by inhibiting COX-2 receptors in the brain that register pain. CBDA has also been shown to help regulate the over release of serotonin that causes severe nausea and vomiting in patients receiving chemotherapy, and while more thorough research is needed these results are very promising.
CBGA (Cannabigerolic acid)
0.27%
CBGA (Cannabigerolic acid)-0.27%
CBGA is often referred to as the, "Father or Mother of all Cannabinoids". This is because CBGA is situated at the very top of the cascading reaction that creates THCA, CBDA and CBCA which, through decarboxylation, are turned into the three major cannabinoids THC, CBD and CBC. Currently there is little research being conducted on the medical benefits of CBGA, although it has shown extremely promising results when looking at the interaction between CBGA and colon cancer cells. When CBGA was applied directly to colon cancer cells not only did it destroy the cancer cells, but it also stopped the proliferation of new cancer cells. More research is certainly needed, but these preliminary results are extremely encouraging.
CBG (Cannabigerol)
0.1%
CBG (Cannabigerol)-0.1%
Cannabinoids are synthesized by Cannabigerolic Acid. CBG is the decarboxylated form of this acid that appears at low levels in most cannabis plants. Because its properties are beneficial to multiple parts of the endocannabinoid system, CBG has a wide range of therapeutic uses. It is non-psychotropic and can provide analgesic and antidepressant qualities.
"TAC" - Total Active Cannabinoids
29.15%
"TAC" - Total Active Cannabinoids-29.15%
Total active cannabinoids represent the total amount of active cannabinoids at the time of lab testing. This total of active cannabinoids considers all of the active compounds that the product holds.