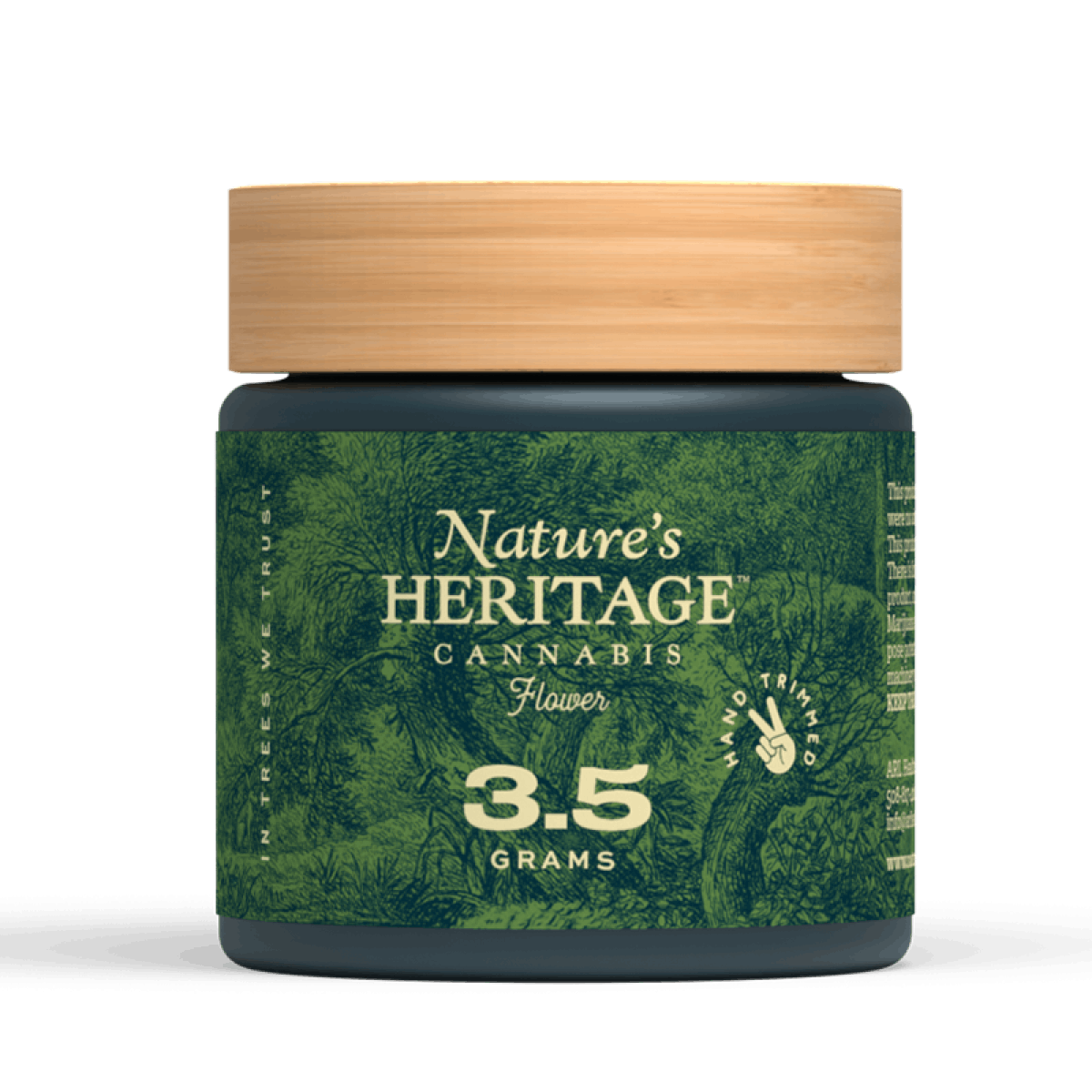 Brand: Nature's Heritage
The Big Smooth | Nature's Heritage
The Big Smooth... need we say more? This sweet and earthy indica hybrid smells deeply of wild blueberries and toasty bakery notes. This dreamy cultivar is a tasty treat for any connoisseur.
Big Smooth is a rare indica dominant hybrid strain created through crossing the insanely delicious OG Blueberry X Cookies and Cream strains. This bud packs an addictive flavor and a rather mellow THC level, making it perfect for any level of user who is looking for a relaxing and long-lasting high. The effects come on with a building effect, easing you in with smooth lifted feelings that leave you flying. You'll feel a tingly effect behind the eyes and in the back of your neck at the onset that soon spreads from limb to limb, relaxing you entirely and leaving you pretty aroused. This effect will also cause you to become more and more giggly, laughing at anything around you without relief. Thanks to these mellow happy effects and its high THC level, Big Smooth is said to be perfect for treating conditions such as chronic pain, mood swings, fatigue, depression, headaches or migraines, insomnia, and loss of appetite or nausea. This bud has a sweet nutty vanilla flavor with hints of creamy blueberry and fresh pine. The aroma is very earthy and herbal with a lemony citrus overtone accented by berries and spices. Big Smooth buds have super fluffy dense minty green nugs with bright orange hairs and a coating of tiny white crystal trichomes.
Effects
Relaxed
Sleepy
Happy
View Product Testing Data
THC-D9 (Delta 9–tetrahydrocannabinol)
34.88%
THC-D9 (Delta 9–tetrahydrocannabinol)-34.88%
THCA (Δ9-tetrahydrocannabinolic acid)
34.88%
THCA (Δ9-tetrahydrocannabinolic acid)-34.88%
"TAC" - Total Active Cannabinoids
36%
"TAC" - Total Active Cannabinoids-36%
About the brand :
Nature's Heritage
Mother Nature gave us cannabis, the most important plant on earth…and we give you the truest way to enjoy it. Nature's Heritage premium-quality cannabis products feature genetically-pure, validated strains, grown indoors and held to the highest standards. They prioritize the plant's integrity at every turn, fine tuning their methods for the optimization and preservation of cannabinoids, terpenes, flavonoids, and other compounds that contribute to a cannabis plant's full potential.