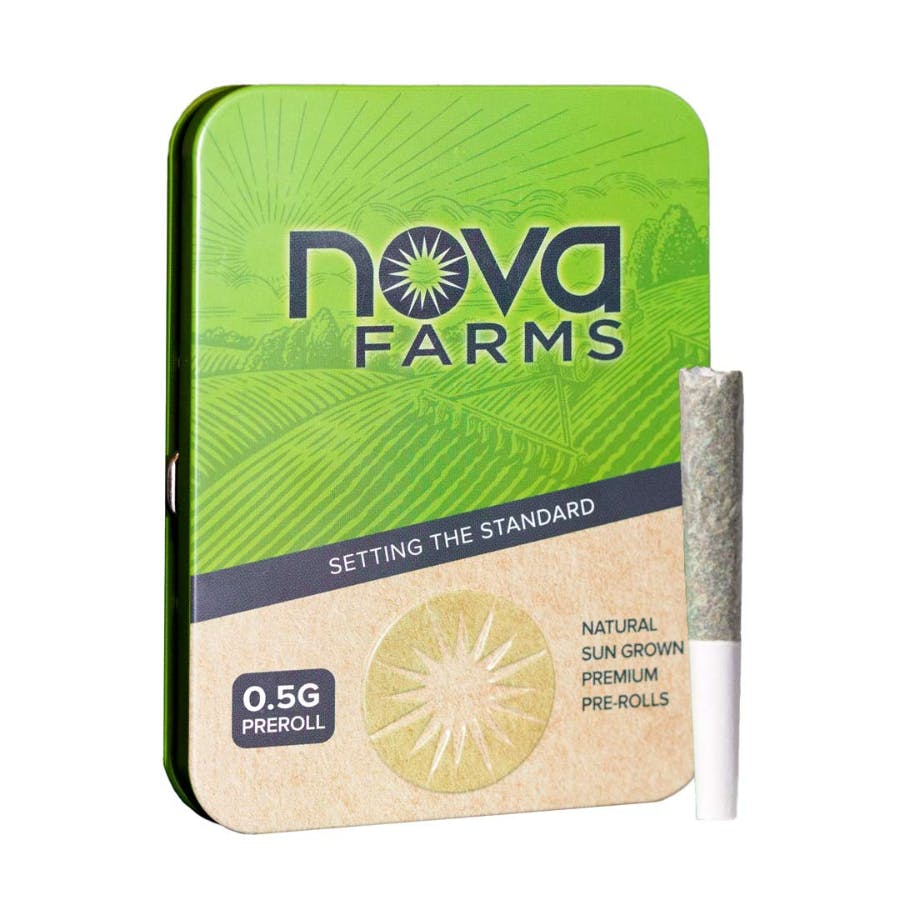 Brand: Nova Farms
White Knuckles | 2.5g | 5pk | Nova Farms
White Knuckles, also known as "White Knuckle," is an indica dominant hybrid strain (70% indica/30% sativa) created through crossing the potent Kimbo Kush X Mr. White strains. A great classic indica for any patient who's after some sweet relief from a long and stressful day or week, White Knuckles packs a soothing high and a delicious flavor into each and every toke. The high starts almost as soon as you exhale, settling quickly into the brain with a heady sense of calm that has you feeling super unfocused and out of touch with reality, although pretty undeniably happy about it. A slowly creeping body high comes next, beginning as a tingle in the back of the neck and spine before inching its way forward throughout your entire body. This combination will turn sedative, so be ready for a long and peaceful sleep! Our Pre-Rolls start with the perfect growing process. Our flower is brought to life artfully by our master farmers, then brought to our facility where it is processed, rolled, and packaged. Our passionate group of joint-gurus carefully pack all of the cannabis that is turned into our staple consistently high-quality pre-rolls. From pre-rolls infused with Live Resin and coated in hash, to a classic blunt; Nova's J-Experts are where it all begins. Nova Farms is an all-encompassing company dedicated to making cannabis accessible to everyone. We believe that cannabis is a right and should be readily available to all. We strive to cultivate better lives, one plant at a time.
Effects
Happy
Relaxed
Sleepy
View Product Testing Data
"TAC" - Total Active Cannabinoids
27.5%
"TAC" - Total Active Cannabinoids-27.5%
Total active cannabinoids represent the total amount of active cannabinoids at the time of lab testing. This total of active cannabinoids considers all of the active compounds that the product holds.
About the brand :
Nova Farms
Deep In Berkshire County, basking within the most fertile land in all of New England, sits Nova Farms. From the perfect seeds to the perfect growing process, our flower is brought to life artfully by our master farmers. Our passionate group of farmers carefully nurture their cannabis using mother nature & New England's most fertile soil. Our flower is of consistently high quality and our massive farm in Sheffield Massachusetts is second to none. This is the way mother nature intended it to be.