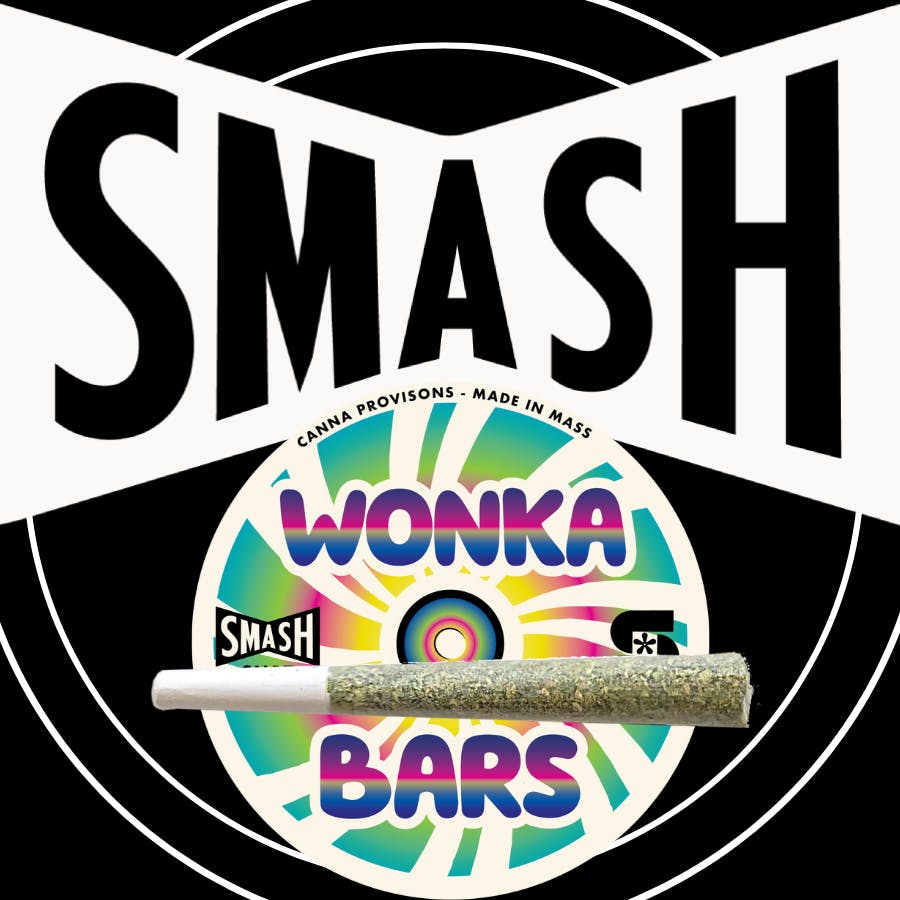 Brand: Smash Hits
Wonka Bars | 1g | Smash Hits
Taking something like Chem D and crossing it with GSC was a winner by itself. But that resulting cross – GMO – and crossing it with Mint Chocolate Chip yields sugar and walnut tasting deliciousness that is kissed with mint on the exhale of this smooth and flavorful strain. Wonka Bars is one for those that like the classic weighted-blanket body high of its indica lineage with all the energetic pop needed to keep you off the couch if needed but perfectly at home on it if so chosen. A treat among treats. FAMILY HISTORY: GMO (Chem D x GSC) x Mint Chocolate Chip PALATE: Almond and herbs meets a whisper of menthol all wrapped up with sweet rainbow candy notes and a chocolate flavor to the smoke. EFFECT: Creative and focused uplift with a quick body high that seems to reach your bones. TERPENES: 1.22%. TOP: d-Limonene, b-Myrcene, linool, b-Caryophyllene
Effects
Happy
Creative
Focused
Uplifted
View Product Testing Data
Beta Caryophyllene
0%
Beta Caryophyllene
0%
Beta-caryophyllene is known for it's wide variety of potential health benefits both physically & mentally. This terpene has a unique ability to bind to the CB2 receptors; CB2 receptors are targeted when treating pain & inflammation with cannabis. Beta-caryophyllene is also approved for use in food by the FDA & is commonly found in black pepper, cinnamon, & basil.
Aromas
Sharp
Spice
Sweet
Wood
Potential Health Benefits
Anti-inflammatory
Gastrointestinal
Cancer Fighting
Anti-depression
Anti-anxiety
Pain Relief
Brain Function
Anti-diabetic
Beta Myrcene
0%
Beta Myrcene
0%
beta-Myrcene a.k.a. Myrcene is one of the most common terpenes found in cannabis. Myrcene is known to increase the effects of the psychoactive properties of THC and enhance the health benefits found in CBD. Commonly found in parsley, mangoes & hops, Myrcene is a good option for those looking to add a little relaxation to their overall experience.
Aromas
Earthy
Musk
Cloves
Potential Health Benefits
Anti-inflammatory
Cancer Fighting
Pain Relief
Limonene
0%
Limonene
0%
Limonene is found in citrus rinds and is the second most commonly occurring terpene in nature. This terpene has been used in high dosages as a catalyst in topical products to allow other chemical compounds to pass through the skin for absorption in the blood.
Aromas
Citrus
Lemon
Herbal
Potential Health Benefits
Cancer Fighting
Anti-anxiety
Anti-depression
Stress Relief
Brain Function
Gastrointestinal
Anti-inflammatory