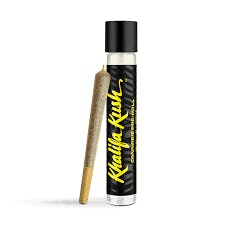 Brand: Khalifa Kush
Khalifa Kush | 1g | Khalifa Kush
The original Khalifa Kush is a mysterious OG Kush that Wiz himself has loved, grown, and smoked since 2012. The "real" Khalifa Kush is a clone only strain that is unavailable to the public and clones are only given to cultivators approved by Wiz. Khalifa Kush produces creative effects and a cerebral high, even with its indica leaning OG genetics. This blend can be smoked morning, noon, and night. Trust us, Wiz smokes this all day long. The flavor is like velvety Kush, pepper, sour lemon, and pine.
Variety: Hybrid/indica (although its effects are more uplifting)
Lineage: OG Kush x OG (unknown origin)
Effects
Relaxed
Happy
Uplifted
Inspired
Creative
View Product Testing Data
CBDA (Cannabidiolic acid)
0.1%
CBDA (Cannabidiolic acid)-0.1%
THC-D9 (Delta 9–tetrahydrocannabinol)
0.4%
THC-D9 (Delta 9–tetrahydrocannabinol)-0.4%
THCA (Δ9-tetrahydrocannabinolic acid)
24.7%
THCA (Δ9-tetrahydrocannabinolic acid)-24.7%
About the brand :
Khalifa Kush
Khalifa Kush products were first commercialized in the U.S. in 2015 by global icon Wiz Khalifa. The company has achieved continued growth and success by focusing on high quality and highly sought-after products in legalized cannabis markets. The Khalifa Kush brand offers a growing lineup of flower, pre-rolls, vapes, edibles, and concentrates, powered by proprietary genetics. Khalifa Kush is available in select markets including California, Florida, Nevada, Oregon, Michigan, Arizona, and Utah. Learn more about our upcoming launches, and shop apparel at KHALIFAKUSH.COM.