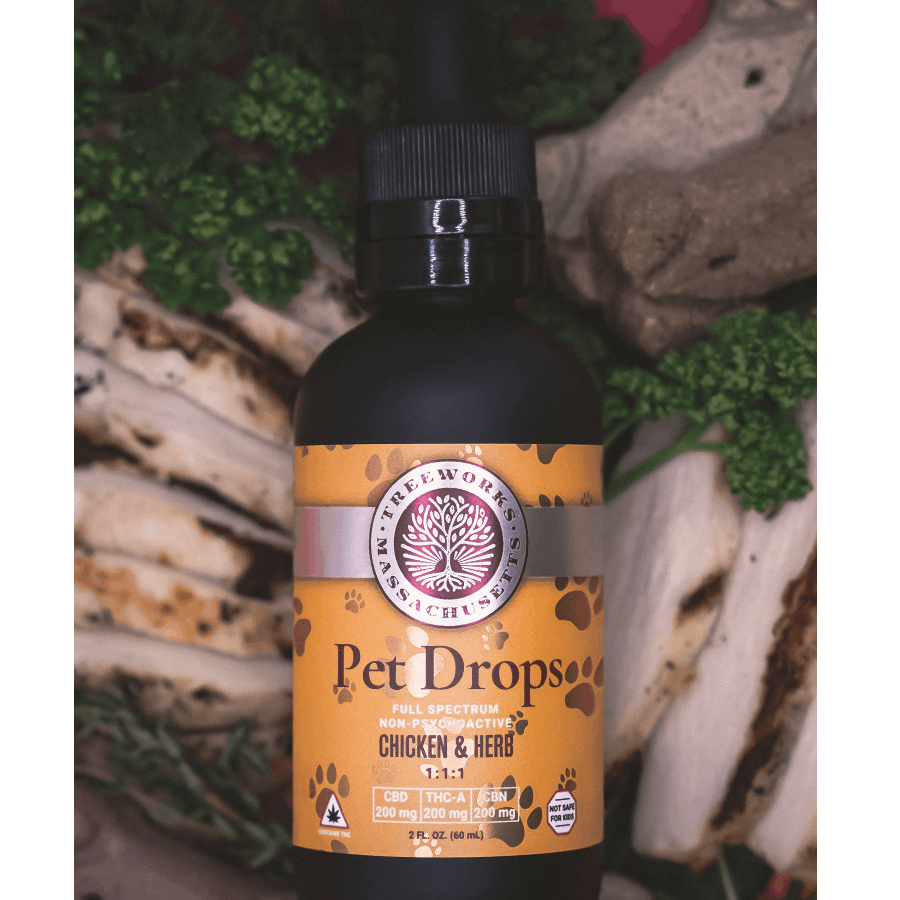 Brand: Treeworks
Pet Drops 1:1:1 Tincture | 2oz | Treeworks
High CBD
THC:192.75mg
CBD:202.08mg
DESCRIPTION The perfect blend of medicinal cannabinoids specifically catered towards your four-legged friends. Utilizing simple pet friendly ingredients combined with CBN, CBD, and non psychoactive THC-A, this feel good product is a must have for all animal lovers. Anything from discomfort, anxiety, sleeplessness, hyperactivity, pet depression or aging, Treeworks newest tincture; Pet Drops has your furry little friends covered. PROPERTIES • Chicken and Herb Flavor • Anytime Use • Soothes Discomfort • Full Spectrum/Full Cannabinoid • Simple Ingredients INGREDIENTS • Organic Coconut MCT Oil • Solventless Live THC-A Cannabis Hash Rosin • CBD • CBN • Natural Flavors CANNABINOIDS • CBN may help with sleep, pain, anxiety and anti-bacterial. • CBD may help with anxiety, pain, muscle relaxation and happiness. • THC-A is a non-psychoactive cannabinoid that may help relieve inflammation, pain and anxiety.
Effects
Clear Mind
Calm
Relaxed
Happy
View Product Testing Data
CBD (Cannabidiol)
202.08
CBD (Cannabidiol)-202.08
CBD is the second most prevalent cannabinoid and is primarily produced by hemp plants and at lower amounts in cannabis. It works as a phytocannabinoid, or binding agent, that adheres to an individual's endocannabinoid system. Cannabidiol has soared in popularity due to its lack of psychoactive effects. Most users seek CBD for its medicinal properties since it was the first cannabinoid to be approved by the FDA. Its healing properties include an ability to help you relax, reduce irritability and ease restlessness.
CBN (Cannabinol)
185.66
CBN (Cannabinol)-185.66
CBN is a cannabinoid that is created during the breakdown of THC by UV light and exposure to oxygen. This breakdown usually begins during the drying and curing process. CBN is most commonly found in older or improperly stored cannabis samples. This compound is mildly psychoactive and is best known for its sedative effects. Strains and products with high concentrations of CBN can be a great choice for users looking to utilize cannabis products to ease restlessness and promote healthy sleep.
About the brand :
Treeworks
Treeworks Brings quality, healthy, and fun products to the Commonwealth. Their exceptional products create a wonderfully balanced and full-bodied experience known as the "entourage effect". This is achieved by using only full-spectrum and full cannabinoid cannabis oil. You can truly notice the difference with Treeworks products.